The Political Science Independent Research Showcase Archive features an online gallery of the research, scholarship and creative activity of TCNJ Political Science students. The Showcase highlights significant work that results from deep engagement in the scholarly or creative process. Students present work that they have already prepared or presented for another purpose such as Independent Research, a Capstone course, a conference presentation, or some other outstanding scholarly/creative experience. In many cases, this will be work done in collaboration with a faculty mentor, but the student is the primary author and presenter of the work at the Showcase.
May 6, 2020 Showcase
POL 498: Social Movements & the Politics of Protest with Dr. Chartock
---
Emily Caporoso
Brexit: A Case Study between the UK and France
Daytwan Coates-Hall
How did the Brexit vote come to be and why hasn't a similar vote occurred in other EU member states?
Patricia Kou
Political Opportunity and Grievances: Differing Outcomes of Apartheid's Sharpeville Massacre and Soweto Youth Uprising
Catriona Leary
Sanctuary Cities: Why Do They Exist? Exploring the Root Cause of the Declaration of Sanctuary Cities
Sean R. Wehner
Vaccination and Failed Legislation: Non-Medical Vaccination Exemptions in New Jersey & California
POL 390-01: Political Parties & Party Systems with Dr. Toloudis
---
Isabel Anthony
The United States and Hungary: How Populist Leaders are Elected
Alexandra Shapiro
Election Turnout in Switzerland
Jada Grisson
How Racial Regimes Complicate Strategies of Political Management within Mono-Party Systems
POL 390-02: American State Politics with Dr. Bowen
---
Alexandra Fountaine
Understanding Welfare Policy and Incarceration: An Intersectional Approach
Casey Lishko
Disasters and Climate: Do Natural Hazards Inform Enduring Beliefs About Global Warming?
Jayson Morelli
The Effects of Mayoral Salaries on the Performance of Municipalities
Sean Simmers
Descriptive Representation and State Legislative Professionalism
Kiana Stockwell
Causes & Consequences of Polling Place Closures post-Shelby v. Holder
Michael Trerotola
LGBT Representation: Descriptive Representation in State Legislatures
POL 395: Supervised Group Research in Data Science and State Politics with Dr. Garlick
---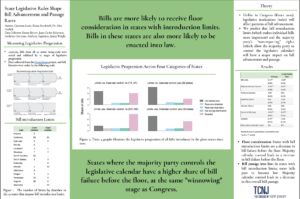 Catriona Leary, Kiana Stockwell and Alex Garlick
State Legislative Rules Shape Bill Advancement and Passage Rates
December 2020 Showcase
POL 498: Senior Seminar in Political Communication with Prof. Garlick
---
Watch the PIRS Showcase Panel, presented on December 2, 2020, as well as additional student presentations, below.
Professor Alex Garlick
Introduction and Overview: Professor Alex Garlick discusses the capstone projects from POL 498: Senior Seminar in Political Communication to be presented at PIRS and that are still in progress. This course was remote-only, but the students still pursued interesting research questions on contemporary issues including the COVID-19 pandemic, the 2020 presidential election, climate change, mass shootings, Russian disinformation campaigns and more. We hope you enjoy this innovative and rigorous work.
PIRS Showcase Panel
featuring:
Madeline Davies: "The Widening of Partisan Polarization: A Catalyzer of Diverging Climate Change Media"
Alanna Namit:  "Athletes and Politics: A Study of Black Lives Matter and Athletic Activism"
Dylan Teixiera: "The Effectiveness of Social Media in Social Distance Messaging"
Kelsey Ballard
Gender, Ideology and Electability: Newspaper Coverage of the 2020 Democratic Primary
Jayson Morelli
News Consumption Trends in Response to the COVID-19 Outbreak
Joshua Oh
Social Media's Impact on Political Opinion of Presidential Policy
Vincenzo Spanola
Young Americans Political Involvement: Evidence from Mass Shootings
Deisha Inniss
Mobilization of Black Movements through Interest Groups and the Media
Emily Evers
The 2016 Russian Internet Research Agency Twitter Disinformation Campaign and its Impact on American Newspapers