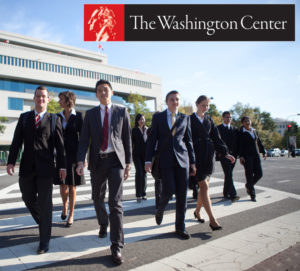 Every important organization in the world has some form of representation in Washington DC.  No matter what type of work you want to explore or pursue, chances are that the leading firm, government agency, research institute or advocacy group in the field has an office in the country's capital.  Many have internship positions for students that allow them to gain practical experience, test the theories and techniques learned in class, and build a professional network.
The College has made it easy for students to benefit from internships and classes in Washington DC.  Use of The Washington Center (TWC) allows TCNJ students to use their current financial aid package and to transfer classes.  TWC also provides housing arrangements and ample student support.  Applications are routed through the Center for Global Engagement.
Political Science (and other) students enroll in a two-unit internship (POL 401), a one-unit class taught by one of the many academics or practitioners in Washington (POL 402), and a one-unit, pass/fail course designed to build a student portfolio and get to know the capital (POL 403).  While any TCNJ student is welcome to use the Political Science classes mentioned above, some departments have courses designated for TWC (such as CRI 401 and CRI 402).
The variety of internships available and the experience you will gain are unmatched.  Students can intern for members of Congress, at bureaus working on important domestic issues (such as Homeland Security), with foreign affairs bureaus (such as the Departments of State or Defense), at private firms (such as), with research or policy institutes or for non-governmental organizations (such as Amnesty International).  These high-level positions provide experience and professional networks unavailable anywhere else.
Taking advantage of the wealth of talent in the institutions named above, TWC offers classes tailored to your specific interest and taught by someone with detailed experience in the particular field.  Other instructors come for the leading universities in the area.
Two TCNJ students who recently returned from TWC offer a brief description of what they accomplished in the following two videos.
For more information, please contact Katie Mount, the TWC representative for TCNJ (email), or Dr. Dan Bowen, chair of the Political Science Department (bowend@tcnj.edu)
Useful links: