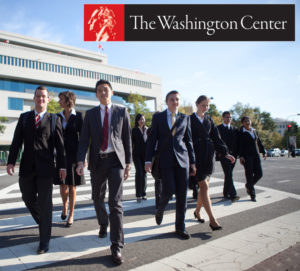 Every important organization in the world has some form of representation in Washington DC.  No matter what type of work you want to explore or pursue, chances are that the leading firm, government agency, research institute or advocacy group in the field has an office in the country's capitol.  Many have internship positions for students that allow them to gain practical experience, test the theories and techniques learned in class, and build a professional network.
The TCNJ Center for Global Engagement and The Washington Center for Internships and Academic Seminars have established a partnership that allows TCNJ students to pursue a semester or a summer in Washington, DC, participate in a full-time internship from Monday to Thursday, take an academic class one evening a week, and attend a weekly leadership seminar on Fridays…all for TCNJ credit!
The Washington Center for Internships and Academic Seminars is an independent, nonprofit organization serving hundreds of colleges and universities in the United States and other countries by providing selected students challenging opportunities to work and learn in Washington, D.C. for academic credit.
Academic Program
TCNJ students in the program will receive four (4) units of TCNJ credit (two (2) units of internship credit, one (1) unit for an academic class, and one (1) unit of P/F credit for the LEAD Colloquium leadership seminar) in the Fall or Spring semesters and three (3) units of credit (one (1) unit each of internship credit, academic coursework, and the leadership seminar) in the Summer session. TCNJ students will be graded for the internship and the academic class, and these grades will be computed in their TCNJ GPA. Political Science (and other) students enroll in a two-unit internship (POL 401), a one-unit class taught by one of the many academics or practitioners in Washington (POL 402), and a one-unit, pass/fail course designed to build a student portfolio and get to know the capital (POL 403).
Internships
There's no better way to launch your career than spending a semester or summer interning in the nation's capital. You'll sharpen in-demand skills, learn how to navigate a professional environment and gain a clear edge in the competition for postgraduate employment. How TWC matches you with the right internship
The Washington Center maintains ties with hundreds of organizations that provide high-quality internships in the D.C. area. Their experienced staff knows which sites offer the best experiences to students. TWC will help you be considered for opportunities that fit you well. You will be assigned an internship advisor with whom you should stay in close touch throughout the internship matching process. Students tend to be most actively engaged in this process during the three months prior to check-in. You will likely have a phone interview with any potential supervisor interested in you, and you will have the chance to accept or decline an offer after it is extended. Your internship advisor will provide guidance regarding specific options to help you make the final decision. For more information about the internship program and sample internship sites click here
Student Life
At The Washington Center, you not only get a great work and learning experience, but you also get great life experience. TWC guarantees housing for all interns who submit their Community Profile by the application deadline. The majority of students live in TWC's Residential and Academic Facility (RAF) in the NoMa neighborhood or in a comparable building within close proximity. Units are two-bedroom, two-bathroom apartments that house four people. All apartments are furnished with utilities, basic cable, and wireless internet. The majority of the academic and professional development programs take place at RAF, so most students do not have to leave the building to attend them. An internship with TWC allows TCNJ students to use their current financial aid package. Applications are routed through TCNJ's Center for Global Engagement.
Check out The Washington Center's all-new program guide designed to help you understand all that TWC's Academic Internship Program has to offer. For more information, please contact Jennifer Margherito, the TWC representative for TCNJ or Dr. Sarah Chartock, chair of the Political Science Department (chartock@tcnj.edu).
Useful links: