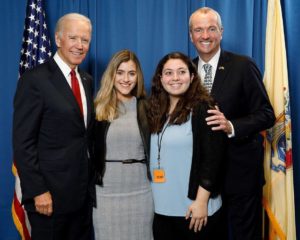 Internships offer students an opportunity to explore and gain experience in issue areas or professions of interest. Typically, Political Science students begin experimenting with internships in their junior year, once they have mastered coursework that makes them valuable to preferred employers. Using the knowledge and skills gained through classes in the Political Science major, the Public Policy minor, or the Pre-Law minor, students carry out applied work to reinforce concepts learned in class, judge if the career direction is in their best interest after graduation, and build professional networks.
Recent internship placement of Political Science students include:
The New Jersey Governor's Office
Assembly/Senate Majority and Minority Offices
Legislative District Offices
The Brian Stack Internship in the New Jersey Governor's Office
The Mid-Jersey Chamber of Commerce
State Public Defenders Office
Numerous legal offices
Bloomberg LLC
River Crossing Strategy Group
Princeton Public Affairs Group
Bank of America
US Department of Justice (Washington Center)
Fox News (Washington Center)
Political Science students can find internship listings below and through the Career Center. The Washington Center offers a wide variety of internships with important public- and private-sector organizations.
INTERNSHIP PROCEDURES
PROCEDURES FOR INDEPENDENT COURSES 
The School of Humanities and Social Sciences adjusted the process for independent courses (research, study, and internships) for Summer and Fall 2021 in light of the coronavirus campus closure.
Students do not need to complete the Records & Registration Internship Enrollment form for the Summer 2021 and Fall 2021 semesters. They must complete the department's Internship Proposal Form and email their completed forms to Dr. Miriam Lowi, Internship Coordinator, and Dr. Dan Bowen, Department Chair, to receive their approval via email. Students then upload the proposal form along with the email record of both approvals (a screenshot or word document) on the School of Humanities and Social Sciences Internship Proposal System for approval by Associate Dean Grimm.
As these are courses taken for academic credit, paperwork needs to be submitted prior to or during add/drop week at the beginning of the semester to the Dean's Office.  Please see the deadlines below:

Summer 2021: Submit paperwork at least 2 weeks prior to the start date of internship
Fall 2021: Tuesday, September 7 by 4:30 p.m.
Spring 2022: Monday, January 31 by 4:30 p.m.
POL 399/Internship in Public Affairs
This course provides an opportunity for students to integrate theory with practical work experience in public affairs under the supervision of a field supervisor and a TCNJ faculty coordinator. Work settings include but are not limited to the Governor's Office, legislative offices, state and local governmental agencies, lobbying firms, trade or union organizations, political campaigns and parties, and non-profit organizations. Working towards academic credit provides the best means of integrating in-class learning and internship employment, although some students may opt to complete an internship alone, without seeking academic credit.
The field supervisor is an important participant in the internship experience. At the end of the term, the field supervisor is expected to confirm the number of hours the student worked as an intern and complete an evaluation form assessing the student's performance. The student will also complete an academic research project, under the supervision of the Faculty Coordinator, on a public policy and/or public administration topic related to the work of the internship.
Students gain academic credit for their internships by finding an appropriate position, enrolling in POL 399, and working with the Faculty Coordinator (Dr. Miriam Lowi, 609-771-2746, mlowi@tcnj.edu, SSB 221) to research and write a substantial paper on their issue area or job. Specific requirements for academic credit vary and are agreed to by the professor, student, and site supervisor at the beginning of the semester. Students enrolling in the course should have junior or senior status and a cumulative GPA of at least 2.5. Students should normally be enrolled in the political science major or minor, the public policy analysis and management minor, or the law, philosophy, and politics minor, although on occasion the instructor of the internship may allow other students to enroll.
Candidates should find a suitable position that will offer a meaningful opportunity and provide roughly 135 hours of work for the semester (per 1 unit course). The Department mostly approves internships worth a full unit (four credit-hours) yet it may make other arrangements under special circumstances. Students may count no more than 3 units of internship toward a TCNJ degree. Unless the student qualifies for an academic overload, the full unit of POL 399 must be part of the 4.5 unit maximum enrollment load for the semester. If overload approval is needed, please wait to apply for your internship until you have completed the Overload Interest Form and received an email from Dr. Grimm approving your overload.  Here is the link to the Overload Interest Form.
The following procedures maximize student enrichment from an internship taken for academic credit.
2020-2021 Faculty Coordinator: Professor Miriam Lowi, 609-771-2746, mlowi@tcnj.edu, SSB 221
Available Internships
Internship Title
Description
Contact
Deadline
Jean Stanfield for State Senate Political Campaign Intern
*This is a non-paid internship. College or volunteer credit will be given.* The Jean Stanfield for State Senate campaign is seeking highly motivated College and High School Interns for the 2021 cycle. This race is located in Burlington County, New Jersey, and will be one of the top races in the state. Interns must work a minimum of 12 hours a week. Hours are flexible.
Applicants can inquire by emailing joshzLD8@gmail.com. Click here for more information.
On a rolling basis.
New Jersey Republican State Committee Interns for Summer and Fall
As an intern with the NJGOP you will: Explore every aspect of campaigning including communications, data analysis, political operations and fundraising; Assist staff with building and organizing major events and fundraisers around the state; Work with staff on comprehensive research projects; and Gain a first-hand experience in New Jersey politics. Hours are flexible but require 15 hours each week. All internships are unpaid but can offer college credit upon request.
To apply for an internship with NJGOP and join our intern team, please
submit your resume and a brief writing sample to Tyler@NJGOP.org. Click here for more information.
Until filled.
Justin Krebs for NY City Council Intern
Justin Krebs for NY City Council is seeking remote interns to help on a competitive local election and learn the ins and outs of a modern political campaign. Spring semester interns will work in every part of the campaign, including our social media, organizing, communications, and political departments.
Apply here.
Until filled.
Gordon Johnson for NJ State Senate District 37
The Johnson-Haider-Park slate of candidates for State Senate and Assembly is seeking volunteers to perform digital and in-person outreach to mobilize voters in New Jersey's 37th legislative district. We conduct all campaign training and operations in accordance with public health guidance. This is a great opportunity to get firsthand experience on political campaigning in New Jersey.
Individuals interested in getting involved can click here to sign up.
Until filled.
Research & Program Associate Job Openings at Brennan Center for Justice at NYU School of Law
The Brennan Center is an independent, nonpartisan law and policy organization that works to reform, revitalize, and when necessary, defend our country's systems of democracy and justice. Our work ranges from voting rights to campaign finance reform, from ending mass incarceration to preserving constitutional protections in the fight against terrorism. We are currently hiring a new group of Research and Program Associate RPAs for our Liberty & National Security, Democracy (NY and DC), Justice, and Fellows Programs. This is a fantastic entry-level position for knowledgeable, hard-working, and creative individuals who are committed to strengthening our democracy. We welcome applicants of all races, ethnicities, gender identities, socioeconomic backgrounds, and sexual orientations, including people who have been previously incarcerated, and are committed to supporting low-income communities and communities of color particularly affected by social inequities. 1-2 years of work experience in any sector is strongly preferred, including employment while in high school or undergrad.
Click here to apply online.
The application deadline is March 22nd, but applications are reviewed on a rolling basis.
Progressive Democrats for LD20
Intern With Krychiw, Heath and Castaneda For NJ LD20. Their Internship Program is ideal for students who want to gain meaningful experience with a progressive grassroots campaign. All internships will be completed remotely. This is an unpaid position. Interns will need to complete 12-18 hours per week. Hours are flexible. There will be opportunities to take on leadership roles in various aspects of the campaign such as field operations, community outreach, communications, policy, and fundraising. Their Internship Coordinator can work with your school to provide academic college credit, depending on their requirements.
For more info, visit www.ld20progressivedems.com. For detailed internship positions and to apply, click here.
Until filled.
NJ Legislative District 1 Summer Intern
Apply to join our team and learn about the day-to-day operations of a legislative office. We are seeking candidates who are responsible, highly motivated, and passionate about current affairs and public service. Interns will have the opportunity to: Speak to constituents and address constituent concerns; Collaborate on a variety of different projects and assignments including, but not limited to, community outreach and research; Gain insight into how a legislative office functions; Learn from a variety of speakers, staffers, and other individuals connected to the legislature; Gain exposure in the field by attending events (subject to change). Interns are expected to work 8-16 hours per week. Both virtual and in-person opportunities are available. Prospective interns are highly encouraged to apply through their university for course credit.
Email SenTesta@njleg.org with a resume, and a few lines about why you would make a great fit for our team.
Until filled.
New York City Council Race Internship
Former NYC Census Director Julie Menin is running for the Democratic Nomination in City Council District 5 (Upper East Side, Roosevelt Island, East Harlem). We are looking for people who are interested in learning the basics of working on a political campaign and learning key skills that would qualify them for a campaign job in the areas of organizing, communications, and political research. This is an unpaid opportunity, so hours and assignments are flexible to meet the intern's schedule and needs. We are not campaigning in-person at this time, so this can be done remotely as well.
You can find out more about Julie at juliefornyc.com. Interested applicants should send their resume to juliefornyc@gmail.com with the subject line "Internship Application".
Until filled.
Fair Ballot Project Internship
This nonprofit, non-partisan project is in collaboration with numerous organizations, both national and state level, to encourage representatives and candidates in New Jersey to support a fair ballot so elections may not be skewed. Interns have the opportunity to work in specific groups (social media, press, candidate, and partner teams, website) that each engage directly to promote education, awareness, and legislative action. The internship will require approximately 5-15 hours each week and will be vitual.
Apply here. Click here for more information about the internship.
Until filled.
Andrew Cuomo for New York - Spring 2021 Volunteer Posting
This is a substantive opportunity and is not like other volunteer opportunities with political organizations. Below is a list of potential responsibilities a volunteer may be involved in:
• Assisting with fundraising and donor outreach.
• Conducting follow up on fundraisers.
• Assist in digital marketing of the campaign.
• Preparing briefings for senior staff.
• Assisting in vetting and compliance.
• Transcribing campaign events.
• Researching venues and conducting venue outreach.
• Helping in various administrative and staffing needs for the campaign.
• Other responsibilities as needed.
Given the current status of COVID-19, the program will be conducted virtually.
To apply, please submit a resume to ryan@andrewcuomo.com AND that you are applying for the Spring program. Click here for more information.
Until filled.
Security & Political Economy Lab Research Program
The SPEC Lab will provide ten undergraduates per year with an 8-week summer research experience (SRE), where they will engage in graduate-level research on the political economy of international security and attend weekly workshops in research design, data science, and professional development. The program includes training in research methods and work as a research assistant on faculty-led projects related to the political economy of security. The program is funded by the National Science Foundation and all participants will receive free housing on the USC campus, travel reimbursement, and a stipend. If the COVID-19 situation prevents in-person programming, we will conduct the program remotely. The SPEC Lab summer program runs from June 7-August 6, 2021. Students will be expected to work 30 hours per week in the lab, inclusive of hours spent in formal trainings.
Click here for more information, qualifications, and to apply.
February 21, 2021
Spring 2021 DC Internship with Congressman Andy Kim
The Office of Congressman Andy Kim (NJ-3) is seeking two full time spring session interns for the Washington, DC Office. I would love your help to make sure that we have the best and most diverse group of applicants possible. Overview: Interns will assist staff members with administrative, legislative and communications work. Typical intern duties include answering constituent calls, scheduling tours, writing press clips, drafting letters, sorting mail, and assisting Congressman's staff on research and legislation. Internships are open to undergraduate students and recent college graduates. Stipends are provided to interns based on financial need. Preference will be given to applicants with New Jersey ties. The internship can be remote.
To apply for the internship with Congressman Kim's Washington DC Office, please complete and submit the Internship form here.
December 15, 2020
NJBIA Spring 2021 Virtual Government Affairs Internship
NJ Business & Industry Association is accepting applications for a virtual Government Affairs internship starting in January 2021. Interns must have strong research and writing skills, a basic understanding of governmental processes, and an interest in New Jersey politics. Selected interns are financially compensated for their hours worked: undergraduate students receive $12/hour. The association also works with interns to secure academic credit if applicable. Click here for the responsibilities and qualifications.
To apply for a spring internship, please submit a cover letter, resume, a writing sample, and 3 recommendation letters to Nicole Sandelier at nsandelier@njbia.org by Dec. 18. Students should indicate the research methods courses taken in their cover letter. Letters of recommendation submitted directly by the applicant will not be considered.
December 18, 2020
Paid Communications Intern, Coalition for the Delaware River Watershed
The Communications Intern will work with the Outreach & Communications Manager to advance the goals of the Coalition for the Delaware River Watershed by effectively using communication tools and completing other projects as needed. The Coalition for the Delaware River Watershed unites non-governmental organizations working in the Delaware River Watershed and enhances their capacity to effectively advocate for protecting and restoring the Delaware River Basin by coordinating on policy, actions, and messages to foster accountability at the federal, state, and local levels. $12/hour. Click here for full description.
Qualified individuals may apply by sending cover letter of interest, resume, and a short writing sample (maximum 4 pages) as a single PDF document listing job position in subject line, to hr.grintern@njaudubon.org.
Until filled
New Jersey Alliance For Immigrant Justice internships
The New Jersey Alliance For Immigrant Justice has three internship positions open for the Spring 2021 semester. We are seeking detail-oriented and self-driven individuals looking to gain experience in policy advocacy, nonprofit management, or digital media communications. We welcome graduate and undergraduate applicants. These opportunities are great for students with an interest in social justice, racial justice, immigrant rights, and social equity.
Students may apply by sending a cover letter and resume to hmir@njimmigrantjsutice.org
Please see the position description linked below:
Policy Internship Position Description
Communications & Digital Media Internship Position Description
Program Internship Position Description
Until filled
Associated Press Remote Vote Entry Operators
The Associated Press Elections team is hiring hundreds of remote vote entry operators for the 2020 General Election to input vote totals from stringers and websites in counties and cities nationwide. These will be relayed to newspaper, broadcast and internet customers worldwide. These are paid ($15/hour), work-at-home positions that require certain skills, equipment and time commitment. Click here for full details.
Email for more information: Martha Manger, Staffing Supervisor, AP Elections, at mmanger@ap.org.
Until filled
Remote Organizing Internship for Audrey Denney for Congress
Audrey Denney is running for Congress in California's 1st Congressional District. With eleven counties in our district, thousands of volunteers in our database, and tens of thousands to call, we need YOU to help us organize! Over the next few months our Remote Organizing Internship program will teach you the following skills: Researching and building lists of influence-makers and change-makers; Managing and controlling Zoom conference meetings, conference calls, and community chat spaces to achieve program goals; Training others to amplify your work and developing key leadership skills; Learning industry standard phone banking and text banking software; Preparing scripts, meeting agendas, reports, and calendars. This is an unpaid, 10 hour a week position.
Send us an email with your resume at: apply@audreyforcongress.com
Until filled
Citizens' Climate HIgher Education Internships
Interns work behind the scenes with staff for conferences, outreach, engagement, and advocacy. In addition internships with the national organization, students can also intern with local chapters.
Click here for more information and to apply.
Rolling basis for positions in 2020 and 2021
Brian Stack Memorial Internship
Paid internships offered through the Governor's Office of Constituent Relations. Applicants complete an application form and submit a resume and writing sample. You can apply even if you have applied in earlier semesters and were not selected.
Brian Stack Application form and apply here. Contact Dr. Bowen with questions.
May 1, 2020 [summer]
PAID East Trenton Collaborative Communications Fellow
Do you have a passion to see communities and neighborhoods flourish? Do you enjoy building relationships through media? Are you seeking opportunities to use your communications skills to connect people and organizations around important social issues? Do you enjoy working in an urban environment with diverse people? Are you bilingual in English and Spanish? As the ETC Communications Fellow, you will assist ETC team members in completing communications tasks that support ETC's community development and community organizing that connect ETC to residents and other stakeholders. Working with the ETC team, the Community Strategies team, other lines of business, and external partners, you will:
• Set up, manage, and maximize social media, text message, and email accounts to share news, events and information about campaigns, including use of platform integration and audience segmentation.
• Assist with event planning, including with planning, promotion, fundraising, setup, execution, tear-down, and other event-related tasks as assigned.
• Develop, refine, and troubleshoot the ETC contact database, complete data entry, and conduct analysis of data to make recommendations for improvement of information management or procedures related to communications activities.
• Prepare Standard Operating Procedures for communications, event planning and execution, data management, and reporting.
• Develop templates for the development of future materials. Qualifications 
Candidates should have a demonstrated interest in the field of community development, sociology or anthropology, public health, public policy, political science, or related field; an enthusiasm towards NJCC's mission and vision; a passion for communities; and the ability to thrive in a highly collaborative environment. Preference will be given to candidates pursuing a degree with a concentration in communications or related field. Click here for full description.
Email a thoughtful cover letter and your résumé to kcastillo@njclf.com. Please include "ETC Communications Fellow – Your Name" in the email's subject line. Check us out at www.east-trenton.org & www.newjerseycommunitycapital.org.
Until filled
FleishmannHillard Internships
FleishmanHillard is a global communications firm that specializes in public relations, public affairs, marketing communication, social media, and creative content. Their Graduate Development Program is a step above their internship program and is designed to help launch post-college professional careers. Occasionally, qualified undergraduates will be accepted in the the program, normally for summer internships.
If interested, please visit their website for more information.
Rolling Basis
Summer Session: June-August
Fall Session: September-January
Spring Session: February-May
Helsinki Commission Internship
The Helsinki Commission advances national security and national interests by promoting human rights, military security, and economic cooperation between 57 countries. Interns will assist staff with various administrative duties and attend and report on Congressional hearings. More information at www.csce.gov.
Send a cover letter ans resume to: csce.internship@mail.house.gov
Rolling basis (positions may be impacted by Covid-19)
MBI-Gluckshaw (MBI) Internship
MBI-Gluckshaw (MBI), one of NJ's largest government relations firms, offers a robust internship program during the Fall and Spring semesters. Intern responsibilities may include but are not limited to: Attending legislative committee hearings and voting sessions; conducting legislative research and monitoring; participating in meetings with clients and/or legislators; preparing policy memos, reports, legislative testimonies, and/or presentations; researching potential new clients and issues; and working on client issues as needed. Interns need to work a minimum or 15 hours a week, with flexibility for remote work. More information about MBI available here.
Please email your resume, cover letter, a writing sample, and a schedule to Kayvon Paul at kpaul@mbi-gs.com
Rolling basis