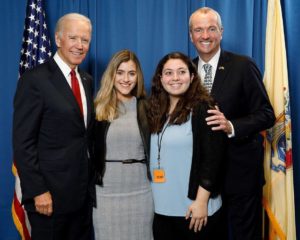 Internships offer students an opportunity to explore and gain experience in issue areas or professions of interest. Typically, Political Science students begin experimenting with internships in their junior year, once they have mastered coursework that makes them valuable to preferred employers. Using the knowledge and skills gained through classes in the Political Science major, the Public Policy minor, or the Pre-Law minor, students carry out applied work to reinforce concepts learned in class, judge if the career direction is in their best interest after graduation, and build professional networks.
Recent internship placement of Political Science students include:
The New Jersey Governor's Office
Assembly/Senate Majority and Minority Offices
Legislative District Offices
The Brian Stack Internship in the New Jersey Governor's Office
The Mid-Jersey Chamber of Commerce
State Public Defenders Office
Numerous legal offices
Bloomberg LLC
River Crossing Strategy Group
Princeton Public Affairs Group
Bank of America
US Department of Justice (Washington Center)
Fox News (Washington Center)
Political Science students can find internship listings below and through the Career Center. The Washington Center offers a wide variety of internships with important public- and private-sector organizations.
INTERNSHIP PROCEDURES
PROCEDURES FOR SPRING 2021 INDEPENDENT COURSES 
The School of Humanities and Social Sciences adjusted the process for independent courses (research, study, and internships) for spring 2021 in light of the coronavirus campus closure.
Students do not need to get signatures from the Internship Coordinator (Dr. Miriam Lowi) or Department Chair (Dr. Dan Bowen) on their forms. Instead students should email their completed forms to Dr. Lowi and Dr. Bowen to receive their approval via email. Students then upload the forms along with the email record of both approvals into the HSS application system (https://hss.tcnj.edu/resources/current-students/forms/).
As these are courses taken for academic credit, paperwork needs to be submitted prior to or during add/drop week at the beginning of the semester to the Dean's Office. 
Please see the deadline below:
Spring 2021: Monday, February 1, 2021 by 4:30 pm
CALL FOR APPLICATIONS FUNDING FOR STUDENTS IN UNPAID INTERNSHIPS THE SCHOOL OF HUMANITIES AND SOCIAL SCIENCES
The Fund for Students in Unpaid Internships in the School of Humanities and Social Sciences, established in 2019 with donations from 139 friends and members of the TCNJ community, provides a stipend of at least $750 for a 1 unit/4 credit HSS internship, for HSS students with financial need who undertake an unpaid mentored internship for academic credit at a site focused on public service and social justice. The eligible course numbers are 398, 399, 487 and 488. Please see the linked call for applications:  Unpaid Internships Fund
Applications for Spring 2021 are due January 15, 2021.
Students gain academic credit for their internships by finding an appropriate position, enrolling in POL 399, and working with their Faculty Coordinator to research and write a substantial paper on their issue area or job. Specific requirements for academic credit vary and are agreed to by the professor, student, and site supervisor at the beginning of the semester. Working towards academic credit provides the best means of integrating in-class learning and internship employment, although some students may opt to complete an internship alone, without seeking academic credit.
Students enrolling in the course should have junior or senior status and a cumulative G.P.A. of at least 2.5. Students should normally be enrolled in the political science major or minor, the public policy analysis and management minor, or the law, philosophy, and politics minor, although on occasion the instructor of the internship may allow other students to enroll.
Candidates should find a suitable position that will offer a meaningful opportunity and provide roughly 135 hours of work for the semester (per 1 unit course). The Department mostly approves internships worth a full unit (four credit-hours) yet it may make other arrangements under special circumstances. Unless the student qualifies for an academic overload, the full unit of POL 399 must be part of the 4.5 unit maximum enrollment load for the semester.
This course provides an opportunity for students to integrate theory with practical work experience in public affairs under the supervision of a field supervisor and a TCNJ faculty coordinator. Work settings include but are not limited to the Governor's Office, legislative offices, state and local governmental agencies, lobbying firms, trade or union organizations, political campaigns and parties, and non-profit organizations. The field supervisor is an important participant in the internship experience. At the end of the term, the field supervisor is expected to confirm the number of hours the student worked as an intern and complete an evaluation form assessing the student's performance. The student will also complete an academic research project, under the supervision of the Faculty Coordinator, on a public policy and/or public administration topic related to the work of the internship.
The following procedures maximize student enrichment from an internship taken for academic credit and should be followed strictly.
The Internship Enrollment Form and the Internship Proposal Form (both also available outside the Political Science office) should be completed by the student and supervisor of the internship site before the student meets with the POL 399 Faculty Coordinator.
The student meets with Faculty Coordinator to discuss their proposal and obtains signatures on both forms before the Add/Drop deadline of the semester.
The student meets with the Chair of the Department of Political Science, Professor Daniel Bowen (bowend@tcnj.edu), to obtain a signature on forms.
The student uploads documents on the School of Humanities and Social Sciences form for HHS Internships for approval by Dean Wong.
COVID-19 Update:For the Records & Registration (R&R) forms, there are signature lines for a subset of the following: Faculty sponsor, Department Chair, and/or Dean. You will not be asking these individuals to physically sign forms. As part of the process of submitting enrollment paperwork, you will be uploading email evidence of approval by your Faculty Sponsor and Department Chair (if applicable). Associate Dean Grimm will sign as the Dean after reviewing your course materials and will send your paperwork directly to Records & Registration for enrollment.For internships that are not virtual, your internship site must allow you to wear a mask and socially distance, and provide access to hand sanitation.  Please have a discussion with your internship site supervisor and your faculty sponsor prior to submitting your internship course paperwork.
2020 Faculty Coordinator: Professor Miriam Lowi, 609-771-2746, mlowi@tcnj.edu, SSB 221
Available Internships
Internship Title
Description
Contact
Deadline
Associated Press Remote Vote Entry Operators
The Associated Press Elections team is hiring hundreds of remote vote entry operators for the 2020 General Election to input vote totals from stringers and websites in counties and cities nationwide. These will be relayed to newspaper, broadcast and internet customers worldwide. These are paid ($15/hour), work-at-home positions that require certain skills, equipment and time commitment. Click here for full details.
Email for more information: Martha Manger, Staffing Supervisor, AP Elections, at mmanger@ap.org.
Until filled
Remote Organizing Internship for Audrey Denney for Congress
Audrey Denney is running for Congress in California's 1st Congressional District. With eleven counties in our district, thousands of volunteers in our database, and tens of thousands to call, we need YOU to help us organize! Over the next few months our Remote Organizing Internship program will teach you the following skills: Researching and building lists of influence-makers and change-makers; Managing and controlling Zoom conference meetings, conference calls, and community chat spaces to achieve program goals; Training others to amplify your work and developing key leadership skills; Learning industry standard phone banking and text banking software; Preparing scripts, meeting agendas, reports, and calendars. This is an unpaid, 10 hour a week position.
Send us an email with your resume at: apply@audreyforcongress.com
Until filled
New Jersey Republican Party Internship
The New Jersey Republican State Committee is seeking dedicated and responsible interns to join their team. Internships are unpaid, volunteer positions intended to provide students with true on-the-job experience. The internship experience is designed to give students substantial exposure to practical, campaign-style politics on a local and state level. Click here for job description and qualifications.
To apply, email resume to Kevin@NJGOP.org.
Until filled
Tedra Cobb for Congress GOTV Internship & Fellowships
Tedra Cobb for Congress is seeking remote Get Out the Vote interns to help run an innovative grassroots organizing program and learn the ins and outs of a modern political campaign. Remote GOTV interns will be exposed to every facet of the campaign, and learn what it takes to turn out voters in a top tier, high salience election. Click here for details.
Weekly commitment of 10-15 hours a week. Submit your application here. Please send any questions to cierra@tedracobb.com
10/1/2020
Tom Malinowski for Congress Internship
The campaign is seeking applicants to join us in preparing for the November 3rd election in New Jersey's 7th congressional district—a pivotal race ranked among the top most competitive re-election races in the country. Interns will gain first-hand experience in campaign organizing, communication, finance, and event management as they work alongside our skilled team of campaign operatives to plan and execute an ambitious, DCCC supported program. This opportunity would be beneficial to any student with an interest in politics or public service. The internship will run from Sept. 3rd to Nov. 3rd and be 5 - 20 hours/week.
Students can apply onlineand find more information here. All are encouraged to apply, regardless of experience. Interns will be working remotely for the duration of the internship.
Until filled
Kean for Congress Internship
The Kean for Congress campaign is seeking dedicated and responsible interns to join our team. Internships
are unpaid, volunteer positions intended to provide students with true on-the-job experience. The
internship experience is designed to give students substantial exposure to practical, campaign-style politics
on a local and state level. The Kean for Congress campaign is looking for interns who are self-motivated and pay close attention to
detail. Interns should be able to work independently as well as part of a team. Other qualifications include:
• A comprehensive knowledge of Microsoft Word and Microsoft Excel
• Strong organizational and interpersonal skills
• A strong interest in Republican politics and campaigns
To be considered for an internship, please send resume to
J.J. Cahill – jj@tomkean.com or call
(908) 617-1216 for more information. Click here for flyer.
Until filled
Amy Kennedy for Congress Summer Internship
Amy Kennedy is a Democrat looking to represent South Jersey (NJ CD #2) in Washington D.C. and is looking for bright, motivated, and eager interns for this election year. They are offering unpaid internships during the summer of 2020. Gain experience in communications, organizing, digital media, and research.
Contact luke@amykennedyforcongress.com.
Until filled
Andrew Cuomo Fundraising Intern
The Cuomo Campaign is looking for hard-working, motivated candidates in the New York City area to work directly with their staff; volunteers can expect to gain unique insight into New York's political processes while learning the basics of political fundraising. Please note, this is not a typical volunteer position for a political campaign. Accepted candidates should expect significant responsibility.
Interested candidates should expect to come into our office 15-20 hours a week along with the occasional morning, evening, or weekend event as needed. Prior campaign experience, while not necessary, is a plus. Below are the main responsibilities for volunteers on the fundraising team.
* Conducting donor research.
* Prepping for campaign events.
* Preparing briefings for senior staff.
* Assisting in vetting and compliance.
* Researching venues and conducting venue outreach.
* Outreach for events.
* Conducting follow up from fundraisers.
* Helping in various administrative and staffing needs for the campaign.
* Other responsibilities as needed.
To apply, please submit a resume to ryan@andrewcuomo.com. Applicants from all educational backgrounds are welcome. Please email ryan@andrewcuomo.com or call (212) 257-6405 if you have any questions.
Until filled
Citizens' Climate HIgher Education Internships
Interns work behind the scenes with staff for conferences, outreach, engagement, and advocacy. In addition internships with the national organization, students can also intern with local chapters.
Click here for more information and to apply.
Rolling basis for positions in 2020 and 2021
NJ Republican State Committee Internship
The NJGOP is looking for dedicated and responsible interns with an interest in politics and campaigns. As an intern with the NJGOP, you will:
● Assist staff with building and organizing major events and fundraisers around the state
● Explore the many parts of campaigning including Communications, Data Analysis, Political Operations, and Fundraising
● Work with staff on exclusive research projects
● Gain first-hand experience in New Jersey politics and campaign organization
Hours are flexible but require two to three days each week. Our internship program provides the opportunity to build political relationships across the state and the ability to grow as a political operative in a fun and exciting environment!
Please contact Pierce@njgop.org for questions regarding the internship program. Click here to apply.
Until filled
Brian Stack Memorial Internship
Paid internships offered through the Governor's Office of Constituent Relations. Applicants complete an application form and submit a resume and writing sample. You can apply even if you have applied in earlier semesters and were not selected.
Brian Stack Application form and apply here. Contact Dr. Bowen with questions.
May 1, 2020 [summer]
PAID East Trenton Collaborative Communications Fellow
Do you have a passion to see communities and neighborhoods flourish? Do you enjoy building relationships through media? Are you seeking opportunities to use your communications skills to connect people and organizations around important social issues? Do you enjoy working in an urban environment with diverse people? Are you bilingual in English and Spanish? As the ETC Communications Fellow, you will assist ETC team members in completing communications tasks that support ETC's community development and community organizing that connect ETC to residents and other stakeholders. Working with the ETC team, the Community Strategies team, other lines of business, and external partners, you will:
• Set up, manage, and maximize social media, text message, and email accounts to share news, events and information about campaigns, including use of platform integration and audience segmentation.
• Assist with event planning, including with planning, promotion, fundraising, setup, execution, tear-down, and other event-related tasks as assigned.
• Develop, refine, and troubleshoot the ETC contact database, complete data entry, and conduct analysis of data to make recommendations for improvement of information management or procedures related to communications activities.
• Prepare Standard Operating Procedures for communications, event planning and execution, data management, and reporting.
• Develop templates for the development of future materials. Qualifications 
Candidates should have a demonstrated interest in the field of community development, sociology or anthropology, public health, public policy, political science, or related field; an enthusiasm towards NJCC's mission and vision; a passion for communities; and the ability to thrive in a highly collaborative environment. Preference will be given to candidates pursuing a degree with a concentration in communications or related field. Click here for full description.
Email a thoughtful cover letter and your résumé to kcastillo@njclf.com. Please include "ETC Communications Fellow – Your Name" in the email's subject line. Check us out at www.east-trenton.org & www.newjerseycommunitycapital.org.
Until filled
FleishmannHillard Internships
FleishmanHillard is a global communications firm that specializes in public relations, public affairs, marketing communication, social media, and creative content. Their Graduate Development Program is a step above their internship program and is designed to help launch post-college professional careers. Occasionally, qualified undergraduates will be accepted in the the program, normally for summer internships.
If interested, please visit their website for more information.
Rolling Basis
Summer Session: June-August
Fall Session: September-January
Spring Session: February-May
Helsinki Commission Internship
The Helsinki Commission advances national security and national interests by promoting human rights, military security, and economic cooperation between 57 countries. Interns will assist staff with various administrative duties and attend and report on Congressional hearings. More information at www.csce.gov.
Send a cover letter ans resume to: csce.internship@mail.house.gov
Rolling basis (positions may be impacted by Covid-19)
NJ Senate Majority Office Internship
The NJ Senate Majority Office is looking for 1 or 2 part-time interns for this fall. There is opportunity for students to receive course credit for this position. The role is a combination of policy research and writing, and potentially some communications work. The staff works directly with New Jersey's democratic state senators and this position offers great opportunity for students interested instate government and, specifically, the legislative process to witness the mechanics of committee meetings, voting sessions, and hearings first hand.
Please send your resume directly to Amanda Melillo, amelillo@njleg.org
Until filled
MBI-Gluckshaw (MBI) Internship
MBI-Gluckshaw (MBI), one of NJ's largest government relations firms, offers a robust internship program during the Fall and Spring semesters. Intern responsibilities may include but are not limited to: Attending legislative committee hearings and voting sessions; conducting legislative research and monitoring; participating in meetings with clients and/or legislators; preparing policy memos, reports, legislative testimonies, and/or presentations; researching potential new clients and issues; and working on client issues as needed. Interns need to work a minimum or 15 hours a week, with flexibility for remote work. More information about MBI available here.
Please email your resume, cover letter, a writing sample, and a schedule to Kayvon Paul at kpaul@mbi-gs.com
Rolling basis
Burlington County GOP Internship
The Burlington County Republican Party is looking for students interested in learning how campaigns work and who would like to help with grassroots organizing. The committee has a long history of molding interns into political operatives and would be a good place for students to become familiar with politics, especially concerning the highly contested swing district LD8.
For questions or to apply, contact Kasey Dearden at (609) 751-7013 or ktdearden@gmail.com.
Rolling basis
Democratic Coordinated Campaign Positions
The Democratic Coordinated Campaign for the 14th legislative district is interested in filling the positions of Data Entry, Field Organizing, and Social Media and Communications.
If interested, address resumes and inquiries to Campaign Manager Sean Gregory at sean@njdacc.com.
Until filled