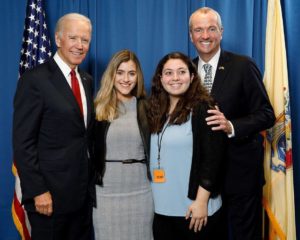 Internships offer students an opportunity to explore and gain experience in issue areas or professions of interest. Typically, Political Science students begin experimenting with internships in their junior year, once they have mastered coursework that makes them valuable to preferred employers. Using the knowledge and skills gained through classes in the Political Science major, the Public Policy minor, or the Prelaw minor, students carry out applied work to reinforce concepts learned in class, judge if the career direction is in their best interest after graduation, and build professional networks.
Recent internship placement of Political Science students include:
The New Jersey Governor's Office
Assembly/Senate Majority and Minority Offices
Legislative District Offices
The Mid-Jersey Chamber of Commerce
State Public Defenders Office
Numerous legal offices
Bloomberg LLC
River Crossing Strategy Group
Princeton Public Affairs Group
Bank of America
US Department of Justice (Washington Center)
Fox News (Washington Center)
Political Science students can find internship listings below and through the Career Center. The Washington Center offers a wide variety of internships with important public- and private-sector organizations.
INTERNSHIP PROCEDURES
PROCEDURES FOR INDEPENDENT COURSES 
Students must complete the department's Internship Proposal Form and email their completed forms to Dr. Sarah Chartock, Department Chair and Internship Faculty Coordinator, to receive her approval via email. Students then upload the proposal form along with the email record of Dr. Chartock's approval (a screenshot or word document) on the School of Humanities and Social Sciences Internship Proposal System for approval by the Dean's Office.
As these are courses taken for academic credit, paperwork needs to be submitted prior to or during add/drop week at the beginning of the semester to the Dean's Office.  Please see the deadlines below:

Spring 2024: Monday, January 29 by 4:30 p.m.
The Fund for Students in Unpaid Internships in the School of Humanities and Social Sciences, established in 2019 with donations from 139 friends and members of the TCNJ community, provides a stipend of at least $750 for a 1 unit/4 credit HSS internship, for HSS students with financial need who undertake an unpaid mentored internship for academic credit at a site focused on public service and social justice. The eligible course numbers are 398, 399, 487 and 488. Click here for the application requirements and submission details.
We cannot fund retroactive applications.  You must apply by the deadlines listed below to be eligible:
Applications for Fall are due August 15.
Applications for Spring are due January 15.
Applications for Summer are due May 15 and June 15.
POL 399/Internship in Public Affairs
This course provides an opportunity for students to integrate theory with practical work experience in public affairs under the supervision of a field supervisor and a TCNJ faculty coordinator. Work settings include but are not limited to the Governor's Office, legislative offices, state and local governmental agencies, lobbying firms, trade or union organizations, political campaigns and parties, and non-profit organizations. Working towards academic credit provides the best means of integrating in-class learning and internship employment, although some students may opt to complete an internship alone, without seeking academic credit.
The field supervisor is an important participant in the internship experience. At the end of the term, the field supervisor is expected to confirm the number of hours the student worked as an intern and complete an evaluation form assessing the student's performance. The student will also complete an academic research project, under the supervision of the Faculty Coordinator, on a public policy and/or public administration topic related to the work of the internship.
Students gain academic credit for their internships by finding an appropriate position, enrolling in POL 399, and working with the Internship Faculty Coordinator (Dr. Sarah Chartock, chartock@tcnj.edu) to research and write a substantial paper on their issue area or job. Specific requirements for academic credit vary and are agreed to by the professor, student, and site supervisor at the beginning of the semester. Students enrolling in the course should have junior or senior status and a cumulative GPA of at least 2.5. Students should normally be enrolled in the political science major or minor, the public policy analysis and management minor, or the law, philosophy, and politics minor, although on occasion the instructor of the internship may allow other students to enroll.
Candidates should find a suitable position that will offer a meaningful opportunity and provide roughly 135 hours of work for the semester (per 1 unit course). The Department mostly approves internships worth a full unit (four credit-hours) yet it may make other arrangements under special circumstances. Students may count no more than 3 units of internship toward a TCNJ degree. Unless the student qualifies for an academic overload, the full unit of POL 399 must be part of the 4.5 unit maximum enrollment load for the semester. If overload approval is needed, please wait to apply for your internship until you have completed the Overload Interest Form and received an email from Dr. Grimm approving your overload.  Here is the link to the Overload Interest Form.
The following procedures maximize student enrichment from an internship taken for academic credit.
The Internship Proposal Form should be completed by the student and supervisor of the internship site before the student meets with the POL 399 Internship Coordinator. Students do not need to complete the Records & Registration Internship Enrollment form. Please enter a start date on your paperwork that is at least 1 week after you submit into the HSS proposal portal. YOUR INTERNSHIP HOURS CANNOT START UNTIL YOU RECEIVE APPROVAL FROM THE DEAN'S OFFICE.
The student meets with Dr. Sarah Chartock, Department Chair and Internship Faculty Coordinator (chartock@tcnj.edu) to discuss their proposal and obtain her signature on the proposal form before the Add/Drop deadline of the semester. (You will be uploading email evidence of approval by the Internship Faculty Coordinator instead of obtaining their signature. Please submit a screenshot or word document.)
Student uploads the documents on the School of Humanities and Social Sciences Internship Proposal System for approval by the Dean's Office. You will receive an email from the Dean's Office when your paperwork is submitted to Records & Registration.
Faculty Internship Coordinator: Professor Sarah Chartock, chartock@tcnj.edu
Available Internships
Internship Title
Description
Contact
Deadline
New Jersey Business & Industry Association Spring Internships
NJBIA, the nation's largest statewide employer association, provides information, services, and advocacy to its member companies to build a more prosperous New Jersey. Getting real world experience prior to graduation is invaluable in determining career goals and aspirations. Students with actual work experience have an advantage as they begin their job search. As an intern at NJBIA, students will be involved in projects that help them to learn, develop business skills and make a meaningful contribution to NJBIA's agenda and goals. Click here for a full position description.
To apply for a Spring internship, please complete the application by Tuesday, December 12, 2023. A cover letter, resume, writing sample and two recommendation letters are required. Applications received after the deadline, unfortunately, will not be considered. Interns will report directly to Kyle Sullender, Director of Economic Policy Research.
Tuesday, December 12, 2023
City of Trenton Mayor's Office Paid internships
The City of Trenton Mayor's Office is hiring paid internships.The intern(s) would be working in the Mayor's Office or for one of their ten department directors (Housing & Economic Development, Police, Fire, Public Works, Health & Recreation, Finance, etc.). All would be involved in substantive work and gain a working knowledge of local government. Hours are flexible, from 10 – 20 hours per week with pay commensurate with experience and advancement.
Interested students should send a cover letter and resume to W. Reed Gusciora, Mayor, (rgusciora@trentonnj.org) and the City's Chief of Staff, Jim Beach (jbeach@trentonnj.org).
Until filled.
Princeton Public Affairs Group's (PPAG) Spring and Summer Internships
Princeton Public Affairs Group offers a dynamic internship program in the Fall, Spring and Summer. Many higher education institutions offer students internship credits for the Fall and Spring semesters. PPAG will work with your class schedule in order to provide a valuable experience for both you and the firm. As an intern your responsibilities will be, but will not be limited to: attending state legislative committee meetings and voting sessions, assist in coalition building, conduct research projects, write articles for newsletters, and become involved in various ongoing projects.
If interested please email your cover letter, resume, and a writing sample to Tre Scott at scott@ppag.com and place "Intern" in the subject line of your email.
Until filled.
National Democratic Training Committee (NDTC) paid internships
The National Democratic Training Committee (NDTC) is a non-profit organization that runs a comprehensive training program in all 50 states through both virtual and in-person programming and they are looking for paid interns for the Spring 2024 semester to assist with their daily operations and goal of empowering Democrats who want to run for office. They have openings for the Strategic Partnerships, Marketing, and People Operations teams. Internships with NDTC are paid $17/hr and fully remote. This paid internship program offers hands-on experience working collaboratively with team members on a variety of projects that support a growing organization.

We welcome applicants from all backgrounds and majors, but ideal candidates will possess strong communication and organizational skills, a passion for Democratic politics, and a desire to learn and grow.

Visit the NDTC website to learn more about our organization and submit an application.
Applications received before November 3rd will be prioritized. After November 3rd, applications will continue to be accepted on a rolling basis until the positions are filled.
New Jersey League of Conservation Voters Paid Internships
The NJ League of Conservation Voters is offering three paid internships: Communications/Digital, Policy/Outreach, and Events/Fundraising/Operations. The term of the position is January - June 2024 (26 weeks) with the possibility for extension and 15 hours per week, part-time, $15/hour. Click here for the details and to apply.
See link for application details. Interested candidates need to provide their resume, cover letter, and three references.
Rolling basis until filled.
Andrea Katz and Anthony Angelozzi NJ LD 8 Campaign Internship
Are you invested in your community? Interested in politics? Hoping to make a difference in the 2023 election? Apply to join a collaborative, grassroots campaign in a key New Jersey legislative district to elect Andrea Katz and Anthony Angelozzi in the 8th District in Burlington
and Atlantic Counties. Interns will have the opportunity to: ● Learn about and participate in voter outreach; ● Recruit and train volunteers; ● Lead young voter engagement efforts; ● Analyze and manage data; ● Learn about local issues; ● Make an impact in NJ politics! Local work is available for dedicated, detail-oriented high school and college students/recent grads with strong communication skills. The internship program is around 10 hours/week with
flexible scheduling.
Please email emilydalgleish@southjerseydems.com with any questions. To apply, please fill out the survey at this link:
https://forms.gle/qefrbQj4QiEMBy8T9
Until filled.
JOB Opportunity for graduates: Communications Associate with NJ Public Charter Schools Association
The New Jersey Public Charter Schools Association (NJPCSA) is a membership organization and the statewide advocacy voice for New Jersey's 85 public charter schools and more than 60,000 students that they serve. The Communications Associate position reports to the Director of Communications and Government Affairs and Chief External Affairs Officer and is responsible for content creation across print and digital platforms to help meet the organization's mission. This individual will initiate, plan, design, execute, and monitor the progress of a number of communications projects to support the organization's overall communications plan and program. Full job description here.
Apply here. Applicants must provide a writing sample. For more information contact Will Roddy at wroddy@njcharters.org.
Application review will begin immediately and continue until the successful candidate has been selected.
Fall Internships for LD16 Democrats- Senator Andrew Zwicker, Assemblyman Roy Freiman, and Mitchelle Drulis for Assembly
The LD16 Democrats are seeking passionate students ready to join the fight to re-elect the Democratic members of the State Senate and State Assembly in New Jersey's 16th Legislative District. Interns will be vital in mobilizing voters in preparation for the November 2023 legislative election in New Jersey. Interns will work alongside our skilled campaign team to plan and execute an ambitious plan to
win in November. Interns will gain first-hand experience in campaign communication, finance, event management, and organizing. Hours are flexible and time commitment varies by availability. Interns will work in person/virtually out of the HQ, and possibly in satellite offices located across New Jersey's 16th Legislative District. Full description here.
Submit applications, including a resume and brief statement of interest here. . Email alyssa@njdacc.com with any questions.
Until filled.
MBI Fall Internship
MBI is looking for Fall Interns who are interested in New Jersey politics and government to join our team. Successful applicants must have an interest developing research skills and learning about New Jersey state government. MBI is a New Jersey public affairs firm with more than 300 years of combined experience in state and local government relations and public relations. The firm provides legislative lobbying, regulatory intervention, county/municipal relations services, government procurement, grant consulting, associate management, public involvement/community outreach services, and public relations for a variety of prominent corporations, national and state trade associations and professional societies and not for profits. Responsibilities for fall interns may include assisting in the following areas: Policy research; Drafting position papers and other memos for clients; Attending legislative committee meetings; Working directly with the MBI team on client issues; Attending networking and fundraising events. Qualifications: Current college student; Must have transportation to and from Trenton, New Jersey; Prefer strong written and verbal communication skills; Team worker; Has an interest in New Jersey politics and government. Applicants who are earning academic internship credit for their major must be able to meet the criteria for credit outlined by their school/class.
To apply, please submit a cover letter and resume to mjaker@mbi-gs.com.
Until filled.
Statewide Affairs Internship
Stateside Affairs is an award-winning, woman and minority-owned government affairs and public relations company based in New Jersey. The intern will work directly with the diverse Stateside Affairs team across a wide variety of nonprofit and private sector clients. This position is currently unpaid but available for school credit. A small stipend may become available depending on travel and future funding decisions. We request a minimum commitment of 20 hours a week, with up to 40 hours a week available. Scheduling is flexible and some work can be done remotely. For full details click here.
Send an email explaining your background, experience and why you are interested in our internship position. Send a resume to Laura@statesideaffairs.com along with your cover letter, resume, and writing samples. For more information about Stateside Affairs, visit
www.statesidesideaffairs.com.
Ongoing basis.
PAID New Jersey Governor's Office Fall 2023 communications intern
Interns are expected to work in person 2-3 days a week, between the hours of 9am-5pm, at a rate of $15/hour. Interns will work out of the Governor's Office in Trenton, NJ. Interns can craft a schedule that fits their availability, and they will be expected to be present on their scheduled days. If you are looking to receive college credit as well, we can work with you to meet your school's requirements. The Governor's Office requires a minimum of 16 hours per week. Interns will learn about and work with the branches of government, as well as the day-to-day operations of the Governor's office. Day-to-day tasks include: Assisting with daily clips/news articles; Helping craft press releases; Opportunities to assist with social media content; Q&A/Audio Summaries; Interns have the opportunity to attend and staff public events; Various Projects: (The Communications Team requires information, data, and research to execute and maintain the Governor's public schedule. Interns play a critical role in gathering information and upkeeping critical resources.)
Send resume and their weekly availability to internship supervisor Natalie Hamilton, at Natalie.hamilton@Nj.gov.
Until filled.
Clarke, Torres, and Salvatore campaign for New Jersey's 25th Legislative District in Morris County Fall Internship
The Clarke, Torres, and Salvatore campaign are actively recruiting new volunteers and interns as we progress from our successful primary campaign to the general election this November. They are looking for individuals passionate about politics who would like to gain some first hand experience in the field. We're happy to accommodate different needs and skill sets, and also provide letters of recommendation if participants would like.
Contact Jillian Prunty at email jillianprunty5@gmail.com or 973-525-6620 for more information.
Until filled.
LD 11 Steve Dnistrian for State Senate, Assemblywomen Marilyn Piperno and Kim Eulner for Assembly Political Intern
Job Duties:
Clerical: Assist with administrative tasks, data entry, filing, and organizing campaign materials.
Research: Conduct research projects, gather information, and prepare summaries on relevantcampaign topics.
Door Knocking: Play a crucial role in connecting with voters.
Organizing: Support the coordination and logistics of campaign events, meetings, and volunteer activities.
Interested applicants should send their resume to vote@stevemarilynkimfornj11.com.
Until filled.
Ripple Effect Strategies finance internship
Ripple Effect Strategies is looking for a finance intern to research, prospect, and follow-up with potential donors; date entry; assist in the planning of fundraisers; learn about campaigns and how the finance side is run. No experience necessary and candidates should have a commitment to helping Democrats get elected. The internship is unpaid with course credit available. 10 hours/week minimum and completely remote.
Send your resume to ian@ripple-fx.com.
Until filled.
Shirley For U.S. Senate Summer Internship Program
The Short Hills office of Shirley Maia-Cusick for US Senate is actively seeking highly motivated students who are interested in pursuing a career or who show a strong interest in politics to participate in our summer internship program. Shirley for Senate interns will gain invaluable experience and sharpen their skills working alongside seasoned political operatives and community leaders! Due to Shirley's election being over a year out, this provides interns with a unique opportunity to learn how to build, direct, and develop a campaign for the United States Senate from scratch. Interns will be able to develop and/or strengthen skills in any of the following: leadership, research, policy development/analysis, financial/treasury assistance, writing/communications, data analysis, coalition building, media/public relations, legal, administrative assistance, event planning, and field work.
Interested students should submit their resumes to Dan@shirley4ussenate.com. Any questions or concerns, please do not hesitate to contact the campaign via email or phone at 732-770-7644.
Until filled.
Housing Rights Initiative Summer Internship
The Housing Rights Initiative is a national housing watchdog looking for motivated interns in New Jersey to assist with research and outreach for an ongoing project this upcoming summer. Housing Rights Initiative (HRI) is an advocacy organization dedicated to fighting fraudulent real estate practices, promoting fair housing, and connecting tenants to legal support. HRI's successful investigations into and class action lawsuits against real estate fraud were featured in Season 2 Episode 3 of the Netflix documentary Dirty Money. Housing Rights Initiative's work has also been profiled by the New York Times and Wall Street Journal.
Any interested students should email mailto:NJ@housingrightsUS.org with a resume using the subject line "Research Intern."
Until filled.
New Jersey Senate Democratic Office PAID policy & communications interns, Fall 2023
The New Jersey Senate Democratic Office is looking for PAID policy and communications interns for Fall 2023. This is a great opportunity to get hands-on experience and connections in the New Jersey Legislature. The minimum time commitment is 16 hours per week, in-person.
Submit a cover letter, resume, and unedited writing sample to
MPeterson@njleg.org.
Until filled.
NJ League of Conservation Voters Internships
Positions available include Policy and Outreach Intern and Communications/Digital Intern. Term of Position: July 2023 – January 2024 (26 weeks); possibility for extension. Schedule and Compensation: 15 hours per week, Part-time, $15/hour.
Click here for the full description and to apply.
Until filled.
Monmouth County Republican Committee Summer Internship
Work on the campaigns for Steve Dnistrian for State Senate, Marilyn Piperno and Kim Eulner for NJ Assembly. Interns will learn the inner workings of a political campaign, engage with voters, candidates, and staff, and develop important working skills.
Contact Ethan Adams, Campaign Manager, Dnistrian, Piperno, & Eulner for LD11, at EAdamsLD11@gmail.com with your resume.
Until filled.
TurnUp Civic and Activism Remote Internship
TurnUp Activism is a progressive non-profit organization dedicated to making the world more just, fair, and equitable for all by increasing youth activism and civic engagement to strengthen our democracy. Interns work in remote teams of mission-driven young people from all around the country to help amplify youth civic engagement and participate in activism on many progressive/social justice issues including climate change, racial justice, reproductive rights, ending gun violence, and combating voter suppression.
Click here for more information and to apply.
Rolling.
Law Office Of Kelly Anderson Smith Internship
We are seeking an Intern for our Criminal Law Office located at 1670 Whitehorse- Hamilton Square Road, Suite 10 Lower, Hamilton, New Jersey. The individual should have knowledge of the basic operations of an office, preferably law, and must be able to work independently. Computer skill sets are required. We are willing to coordinate with an Intern around school hours and our office operational needs. Courtroom appearances/observations under guidance of attorney will be available for motivated individuals. Interns will be afforded the opportunity to network and create critical contacts with Judges, Prosecutors and the Defense Bar from all over the State. Our Law Office offers a great experience to learn skills and knowledge regarding Criminal Law. You will gain experience on how to prepare and organize a file for trial, research case law for Appeals, and interact with clients from intake to testimony prep.
If interested, please send your cover letter and Resume to kas@kasforjustice.com or you may fax to 609-249-4902.
Until filled.
New Jersey Division of Consumer Affairs Internships
The New Jersey Division of Consumer Affairs offers undergraduate and graduate students the opportunity to participate in an unpaid internship during their Fall or Spring semesters or during their Summer break. If accepted into the program, students will be assigned to one of the Division's Boards, supporting Units or Offices. This is a great opportunity for students to work with professionals in the field of Public Administration. Although this is an UNPAID internship program, it will still teach you a great deal and will be a great experience for any student who hopes to one day work in Public Administration. This particular division has many boards that can trigger any student's interests. This internship can earn you credit for school and will look great on your resume.
Click here for details and application information.
Fall Session (September to December): Application Deadline: July 11
Fund for Public Interest Summer Campaign Job Opportunities
Want to spend your summer building skills that will help you launch your career, while working on urgent issues you care about like protecting the environment and our public health, and making good money? The Fund for the Public Interest is seeking hard-working individuals with a passion for social change to fill citizen outreach and Field Manager positions across the country this summer. With offices in selected cities across the country this summer, we are hiring full-time staff, with leadership opportunities available, to work on issues like stopping plastic pollution and getting pesticides out of our food supply.
To apply online, visit: www.summerjobsthatmatter.org or call directly at (737) 301-1861. They are also hiring for career positions for college graduates. To apply online, visit www.fundjobs.org.
Until filled.
Paid Fellowship Opportunity: Political Leadership in Young Women

The Dr. Anne Moses IGNITE Fellowship Program is a premier, paid fellowship program for passionate young leaders who want to jump-start their public service careers. Every year, IGNITE recruits diverse and passionate leaders in communities across America and provides them with the resources, training, and networks to flex their political power and mobilize women on college campuses to become civically and politically engaged. Click for details and application.
Click here for job description, FAQs and application.
Deadlines vary by site.
Hoboken Strategy Group paid Internship
The Hoboken Strategy Group is looking for a highly motivated, self starter interested in joining their team and supporting their work on behalf of a dynamic client base across various industries. Applicants with a background or interest in legislative research, policy, writing, public relations, communications, advocacy, and social and digital are invited to apply.
Send resume and cover letter to casey@hobokenstrategy.com.
Until filled.
NJ Senator Linda Greenstein Internship
The Legislative Office of NJ State Senator Linda Greenstein has various internship opportunities in her office.
For more information and to apply, send your resume to Chief of Staff Jessica Murray at jmurray@njleg.org.
Rolling basis.
NJ Assemblyman Roy Freiman Internship
NJ LD 16 Assemblyman Roy Freiman seeks interns for his office in Hillsborough. Our ideal candidate is an organized and committed student or recent graduate who is eager to join a fast-paced environment and build upon their knowledge of the legislative process. Candidates should be professional, quick learners, and phenomenal team players.
CORE RESPONSIBILITIES: ● Assisting staff with legislative research projects ● Writing constituent correspondence ● Interacting with visitors ● Handling phones ● Sorting and processing mail
QUALIFICATIONS: ● Excellent verbal and written communication skills ● Track record of responsibility ● Exemplifies great customer service
This internship is unpaid but academic credit will be considered based on school. Ties to LD 16 are preferred, but not necessary. Assemblyman Freiman currently serves on the Financial Institutions & Insurance Committee, Commerce & Economic Development Committee, and is the Chairman of the Agriculture & Food Security Committee. We are very open to interns working in the areas that interest them most and taking on increasing responsibility as the term progresses.
Interested applicants should send a cover letter and resume to Sarah Seaboldt at sseaboldt@njleg.org. Applicants will be considered on a rolling basis.
Rolling basis.
Office of the Mayor, City of Trenton Internship Opportunities
Mayor Reed Gusciora Office in the City of Trenton provides two types of internships: COMMUNICATIONS INTERN: Tasks might include drafting pre-media advisories, pre-media invitations, talking points, op-eds, social media posts, and press releases. Interns will have the opportunity to work directly with the City of Trenton's Public Information Officer and the Mayor on a day-to-day basis. POLICY INTERN: Tasks might include completing research, drafting, and working with city council members on resolutions and ordinances; similarly, it may include completing research or supporting ongoing city initiatives, policies, and programs.Click here for more information and to apply to the internship.
If you have any questions about the internship program, please feel free to email David McMillan, Aide to the Mayor, at dmcmillan@trentonnj.org.
Internship opportunities are limited and decisions will be made on a rolling basis. Students should apply for for spring internships during December, January, and February. The summer internship application deadline is May 22, 2023 and the fall deadline is August 1, 2023.
Stateside Affairs Public Relations & Digital Marketing Intern
Stateside Affairs is seeking qualified candidates for an internship opportunity as public relations & digital marketers. Part and full time positions with a minimum commitment of 20 hours/week in Monmouth County, NJ. Applicants will have the opportunity to learn directly from industry experts while earning college credit. The intern will work directly with the diverse Stateside Affairs team across a wide variety of nonprofit and private sector clients. This position is currently unpaid but available for school credit. A small stipend may become available depending on travel and future funding decisions. We request a minimum commitment of 20 hours a week but scheduling is flexible and some work can be done remotely. What We're Looking For: Creativity, accountability, and attention to detail. Familiarity with social media platforms such as Facebook, Instagram, LinkedIn, Twitter, YouTube, and TikTok. Writing experience, especially across different mediums.Specific Responsibilities: Assist in creating and executing strategic plans for all social media channels. Writing content and creating graphics for all social media channels. Assist in writing, editing and distributing media advisories, press releases, and other articles for clients and Stateside Affairs. Manage and monitor client websites up-to-date
Create media lists. Design flyers, evites, and other marketing collateral. Assist in planning, writing copy, and scheduling email marketing campaigns while also helping develop new email marketing strategies. Assist in the production of virtual events. Collaborate with staff on new ideas, directions, and venues for marketing and communications. Assist with photography and video editing.
Send us an email explaining your background, experience and why you are interested in our internship position. Send a resume to Laura@statesideaffairs.com along with your cover letter and writing samples. For more information about Stateside Affairs, visit www.statesidesideaffairs.com. Applications are accepted on an ongoing basis.
Rolling basis.
New Jersey Board of Public Utilities PAID Internships
The intern experience typically runs from the following dates: Spring: January to May; Summer: June to August; Fall: September to December; for 10-20 hours a week on average, depending on the semester. The internships are designed to provide highly motivated students or recent graduates practical training, work experience, and professional development opportunities that are best suited for those interested in careers in administration, law, regulatory efforts, state and federal policy, and government. Positions are paid and available in the following divisions: Office of Information Technology; Office of Cable Television & Telecommunications; Division of Clean Energy; Division of Reliability and Security; Division of Administration; Division of Energy and Water; Chief of Staff's Office; Office of Communications; and the Office of State Energy Services.
To qualify, interns must be a New Jersey resident or enrolled in a New Jersey college or university with at least two years of college-level education, be a recent graduate, or a graduate student. Information can be found on the postings attached or on the BPU website: https://nj.gov/bpu/about/employment/.
Applications are due one month before the start of the internship cycle, so if you are applying for a Summer role, your application is due no later than May 1 of the given year. Please include all relevant documentation listed in the "To Apply" section of the respective internship posting.
Fall 2023 NJ Legislative Races - Democratic Assembly and Senate Campaign Caucus JOB Openings
Caucus Campaign Director JD
Campaign Finance Director JD
Campaign Field Director JD
Campaign Manager JD
Campaign Field Director JD (1)
Campaign Field Organizer JD
See job descriptions
Until filled
JOB: R Street Government Affairs Northeast Region Manager
The R Street Institute—a free-market think tank headquartered in Washington, D.C. and with regional offices around the country—is seeking a Northeast region manager to join our State Government Affairs team. If you are the right fit, you will report to the director of state government affairs. We are accepting candidates who are based in or near a state capital in the Northeast or Mid-Atlantic regions of the United States. In this role, you would serve as the regional ambassador and government relations point person for all of our programs, with an emphasis on integrated harm reduction, criminal justice, property and casualty insurance, and voting reforms. Your typical day could include speaking with collaborators on alternatives to incarceration, educating elected officials on policies that promote less harmful alternatives to combustible cigarettes, drafting an op-ed on free-market principles or testifying before legislative committees on our initiatives. Experience in a state legislature is highly preferred for the second and remote work is fully supported.
More information and to apply, click here.
Until filled.
NJ Assemblywoman Verlina Reynolds-Jackson Internship
Assemblywoman Reynolds-Jackson is looking for an intern in her district office in Trenton. Typical district office internships include: researching answers to constituent inquiries; assisting staff with community outreach events; staying current on notable in-district events, individuals, and organizations; attending events with staff; and general administrative duties. Her office is located near campus: 144 West State St., Trenton, NJ 08608.
Anyone who may be interested should reach out to Ed Gittens at (609) 571-9638 or at aswreynoldsjackson@njleg.org.
Until filled
Our Revolution Trenton Mercer Campaign & General Internships
Our Revolution Trenton Mercer, is seeking bright, energetic individuals to work for our local progressive campaigns. These will most often be ORTM-endorsed candidates, usually Democratic- in some cases, they may be independent or nonpartisan. Internships are unpaid, as we are a fully volunteer organization. More information on the Campaign Internship here. More information on the General Internship here.
Any interested candidate should send a resume and letter of interest to ORTM Chair, Joe Marchica at ORTrentonMercer@gmail.com. Email subject should include "ORTM Campaign Internship".
Rolling basis.
Assemblyman Daniel R. Benson Internship
The Office of Assemblyman Daniel R. Benson offers unpaid internships available throughout the year and can serve to accumulate credits for school. Interns help staff in all aspects of serving constituents in our office and can interact directly with the Assemblyman.
Send to your resume and writing sample to Sharon Shinkle Gardner, Chief of Staff, Office of Assemblyman Daniel R. Benson at sshinklegardner@njleg.org for more information and to apply.
Rolling basis
Bucks County, PA Democrats Paid Political Canvassing
Bucks County Democrats are looking for enthusiastic students for a paid political internship knocking doors in Bucks County PA for our list of candidates. Students work 15-25 hours a week for $18/hour. The shifts are from 3-8pm Tuesday-Sunday with two morning shifts that run from 10:00AM-2:00PM Saturday and Sunday.
Contact Cooper Barton at cooper@metrostrategiesllc.com or call (310)-663-0542.
Until filled
Fall 2022 internships with Assemblywoman Vicky Flynn in LD13
The internship is designed to give students exposure to the New Jersey Legislature and the legislative process. Our interns may assist legislative staff members with many functions of the office including legislative research, constituent work, social media planning, drafting and editing written materials, and performing administrative tasks such as data entry, and answering telephones and other interesting tasks. All internships are unpaid positions.
Students must include a resume and cover letter. The cover letter should be a brief intro about the student and their interests. They also will need to include their dates and time of availability. If you have students that are interested in applying for an internship, please send your resume to aswflynn@njleg.org.
Until filled
NJPIRG internships and paid jobs
NJPIRG is a statewide student-run org started 50 years ago in 1972 to make social change. We work on issues like fighting climate change, protecting public health, fighting hunger, and promoting democracy. To turn out the votes, we are hiring part time jobs to work the polls and encourage their peers to cast their votes, and we're also hiring students for full time paid leadership positions on campus.
Click this link to learn more.
Rolling basis
Josh Gottheimer's Congressional Campaign Internship
The intern program will be a 5-10 hour commitment per week that break down into two or three shifts that consist of knocking doors, phone banking, aiding in canvass launches, helping at events, and distributing signs across the district. This internship will allot students opportunities to meet Josh, ask questions, learn more about the inner workings of a frontline Congressional Campaign, and work with seasoned staff. Josh is a moderate Democrat running in New Jersey's 5th district. He has been endorsed by Planned Parenthood, the NJEA, and Everytown for Gun Safety.
Email Puja Parikh for more information.
Until filled
Monmouth County Republican Committee Internship Opportunity
Learn how to conduct and win political campaigns through voter contact, social media, and voter targeting.
Email resume to monmouthrepublican@gmail.com.
Rolling basis
Political campaign, consulting, and government office internships
Click here for internships with employers including U.S. Senator Ed Markey, Rep. Sean Patrick Maloney, the NYS Democratic Party, State Senator John Mannion, State Senator James Sanders Jr., ten congressional candidates, and many more across the country!
Until filled
On the Record Institute Internship
On The Record is a volunteer-based (c)(3) non-profit research watchdog dedicated to encouraging intellectual discourse by providing objective and cited evidence on the comments and behaviors of notable individuals in politics and the media. ​All internships and volunteer work are remote, available on a rolling basis, and flexible according to the needs, talents, and time constraints of each individual.
Click here for more information and to apply.
Rolling basis
The Fund for the Public Interest paid Canvasser and Field Manager positions
The Fund for the Public Interest is a national non-profit organization that runs campaigns for America's leading environmental and social change organizations like Environment America and US PIRG. This summer we will be working with Environment New Jersey to protect the Ocean. Responsibilities: Help the directors launch the campaign and build a team of staff; Build membership and raise money for environmental and social change groups; Educate and engage citizens on pressing issues;-Recruit, train, and manage a team of staff in the office and in the field; Meet with directors each week to evaluate progress and provide input on hiring decisions, goals, and priorities. Apply HERE!
To apply online or learn more, visit: www.summerjobsthatmatter.org.
Until filled
Internship with Environment New Jersey
Intern with Environment New Jersey! We're looking for students who care deeply about the environment and are ready to make a difference now. As an intern you'll learn how to analyze environmental problems, push for smart solutions, and build the public support it takes to win. You'll work side-by-side with one of our advocates, learning the ropes. And you'll attend briefings and trainings to learn even more about environmental issues and gain organizing skills.
Apply today here: https://jobs.environmentamerica.org/internship.html or email Hayley Berliner, Clean Energy Advocate with Environment New Jersey at hberliner@environmentnewjersey.org with any questions.
Until filled
East Trenton Collaborative Communications Fellow - Paid
The ETC Communications Fellow will support the East Trenton Collaborative's neighborhood revitalization work by implementing a communications plan that connects residents, partners, and other stakeholders to ETC's programmatic and strategic goals. This work will include the formation and utilization of effective communications materials on a variety of platforms, including social media, text, email, and print. The ETC Communications Fellow will also assist team members with event planning and execution, data and information management, community center operations, and administrative support. This position is based out of the Trenton office located in 601 N Clinton Avenue, and may require up to 20% travel to partner organizations or to other NJCC's offices. Click here for the position announcement.
please email your résumé to kcastillo@njclf.com and include "ETC Communications Fellow – Your Name" in the email subject line. Check us out at www.newjerseycommunitycapital.org & www.east-trenton.org!
Until filled
Middlesex County Democratic Organization internships
Interns will have a hands-on, front row view of the democratic process, being able to aid in organizing party conventions, meetings, and local elections. As an intern, you will get the opportunity to work on and with political campaigns, organize volunteers, and interface with the public. We at MCDO strive to cultivate a real-world job experience for interns and continuously aid our current and former interns in resume building, interview prep, and professional advancement based on career goals. The office is located at 266 Fernwood Ave in Edison, NJ.
Click here to apply. For more information contact Jennifer Johnson, Operations Director, at jjohnson@mcdonj.org.
Until filled
New Jersey Republican State Committee Internship
The NJGOP is looking for dedicated and responsible interns with an interest in politics and campaigns to join our intern team. As an intern with the NJGOP you will: Explore every aspect of campaigning including communications, data analysis, political operations and fundraising; Assist staff with building and organizing major events and fundraisers around the state; Work with staff on comprehensive research projects; Gain a first-hand experience in New Jersey politics. Applicants must be 18 years old and registered to vote, possess a comprehensive knowledge of Microsoft Word, Excel, and Google Suite, have strong organizational and interpersonal skills, demonstrate good judgement and attention to detail, and have the ability to work independently and with a team.
Hours are flexible but require 15 hours each week. All internships are unpaid but can offer college credit upon request. Our internship program provides the opportunity to build political relationships across the state and the ability to grow as a political operative in a fun and exciting environment! To apply for an internship with NJGOP and join our intern team, please submit your resume and a brief writing sample to Tyler@NJGOP.org.
Until filled
NY State Democratic Committee virtual political volunteers
We are looking for hard-working, motivated candidates in the New York City area (and beyond!) to work directly with our staff; volunteers can expect to gain unique insight into the New York political landscape. This is a substantive opportunity and is not like other volunteer opportunities with political organizations. Below is a list of potential responsibilities a volunteer may be involved in: Assisting with fundraising and donor outreach; Conducting follow up on fundraisers; Assist in digital marketing of the campaign; Preparing briefings for senior staff; Assisting in vetting and compliance; Transcribing campaign events; Researching venues and conducting venue outreach; Helping in various administrative and staffing needs for the campaign; Other responsibilities as needed.
Candidates should have the following qualifications: Knowledge of Excel/Google Sheets and G Suite Environment; Familiarity with NGP, while not required, is a plus; Ability to clean data in excel sheets quickly; Need to work weekends or outside office hours as needed; Must be available between 15-20 hours a week along with the occasional morning, evening, or weekend task as needed; Ability to multitask and perform well in a fast-paced environment. To apply, please submit a resume to ryan@nydems.org AND that you are applying for the Summer program. Applicants from all educational backgrounds are welcome. Please note, applications submitted directly to the hiring platform will NOT be reviewed. Please email ryan@nydems.org or call 212-725-8825 if you have any questions.
Until filled
Research & Program Associate Job Openings at Brennan Center for Justice at NYU School of Law
The Brennan Center is an independent, nonpartisan law and policy organization that works to reform, revitalize, and when necessary, defend our country's systems of democracy and justice. Our work ranges from voting rights to campaign finance reform, from ending mass incarceration to preserving constitutional protections in the fight against terrorism. We are currently hiring a new group of Research and Program Associate RPAs for our Liberty & National Security, Democracy (NY and DC), Justice, and Fellows Programs. This is a fantastic entry-level position for knowledgeable, hard-working, and creative individuals who are committed to strengthening our democracy. We welcome applicants of all races, ethnicities, gender identities, socioeconomic backgrounds, and sexual orientations, including people who have been previously incarcerated, and are committed to supporting low-income communities and communities of color particularly affected by social inequities. 1-2 years of work experience in any sector is strongly preferred, including employment while in high school or undergrad.
Click here to apply online.
Rolling basis
Fair Ballot Project Internship
This nonprofit, non-partisan project is in collaboration with numerous organizations, both national and state level, to encourage representatives and candidates in New Jersey to support a fair ballot so elections may not be skewed. Interns have the opportunity to work in specific groups (social media, press, candidate, and partner teams, website) that each engage directly to promote education, awareness, and legislative action. The internship will require approximately 5-15 hours each week and will be virtual.
Apply here. Click here for more information about the internship.
Until filled
Brian Stack Memorial Internship
Paid internships offered through the Governor's Office of Constituent Relations. Applicants complete an application form and submit a resume and writing sample. You can apply even if you have applied in earlier semesters and were not selected.
Brian Stack Application form and apply here. Contact Dr. Bowen with questions.
Three rounds of applications in the fall, spring and summer.
FleishmannHillard Internships
FleishmanHillard is a global communications firm that specializes in public relations, public affairs, marketing communication, social media, and creative content. Their Graduate Development Program is a step above their internship program and is designed to help launch post-college professional careers. Occasionally, qualified undergraduates will be accepted in the the program, normally for summer internships.
If interested, please visit their website for more information.
Rolling Basis
Summer Session: June-August
Fall Session: September-January
Spring Session: February-May
Helsinki Commission Internship
The Helsinki Commission advances national security and national interests by promoting human rights, military security, and economic cooperation between 57 countries. Interns will assist staff with various administrative duties and attend and report on Congressional hearings. More information at www.csce.gov.
Send a cover letter ans resume to: csce.internship@mail.house.gov
Rolling basis (positions may be impacted by Covid-19)
MBI-Gluckshaw (MBI) Internship
MBI-Gluckshaw (MBI), one of NJ's largest government relations firms, offers a robust internship program during the Fall and Spring semesters. Intern responsibilities may include but are not limited to: Attending legislative committee hearings and voting sessions; conducting legislative research and monitoring; participating in meetings with clients and/or legislators; preparing policy memos, reports, legislative testimonies, and/or presentations; researching potential new clients and issues; and working on client issues as needed. Interns need to work a minimum or 15 hours a week, with flexibility for remote work. More information about MBI available here.
Please email your resume, cover letter, a writing sample, and a schedule to Kayvon Paul at kpaul@mbi-gs.com
Rolling basis