The TCNJ Department of Political Science's Politics Forum presents analytical and/or empirical research concerning political power, institutions and choices.  Students and faculty from diverse departments join to learn and comment on the presenter's current research projects, which may be in completed or just in beginning phases.  Projects that cross disciplinary boundaries are particularly welcome.  Contact Dr. Nicholas Toloudis (toloudin@tcnj.edu) with questions or if you are interested in presenting your work.
Click here to see past presentations.
Fall 2022 Presentations
Celebrate Constitution Day with Politics Forum!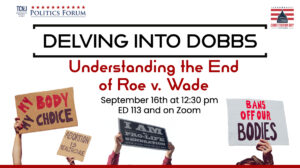 On Friday, September 16, at 12:30 pm, the Political Science Department's Politics Forum is hosting this year's Constitution Day Event entitled "Delving Into Dobbs: Understanding the End of Roe v. Wade"
Professors Tao Dumas (Political Science), Leigh-Anne Francis (AAS / WGSS), Jackie Cornell (WGSS), and Erin Ackerman (Library / Political Science) will analyze the 2022 Supreme Court decision Dobbs vs. Jackson Women's Health Organization from their scholarly perspectives.
Location: Education Building, Room 113 and Zoom:
When: Sep 16, 2022 12:30 PM Eastern Time (US and Canada)
Topic: Politics Forum Constitution Day