The TCNJ Department of Political Science's Politics Forum presents analytical and/or empirical research concerning political power, institutions and choices.  Students and faculty from diverse departments join to learn and comment on the presenter's current research projects, which may be in completed or just in beginning phases.  Projects that cross disciplinary boundaries are particularly welcome.  Contact Dr. Nicholas Toloudis (toloudin@tcnj.edu) with questions or if you are interested in presenting your work.
Due to covid-19, Politics Forum will be held virtually until further notice.  Zoom links are posted below. 
Click here to see past presentations.
Spring 2022 Presentations
Politics Forum hosts alma khasawnih, Ph.D., Assistant Professor, Department of Women's, Gender, & Sexuality Studies as she presents War: A Personal Story on April 29 at 12:30 pm on Zoom and in SSB 223.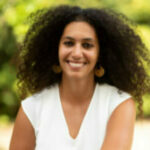 In this talk, Dr. khasawnih disorients narratives of war away from hegemonic discourses that focus on national and international politics and economies. Through collective, familial, and personal histories, khasawnih reorients the discussion toward the lived experiences of those experiencing war as it shapes every aspect of life.
Please note: masks are required to attend the in-person presentation. 
Join Zoom Meeting
https://tcnj.zoom.us/j/97774545711?pwd=UTFMckYvdzBlUm1oYm1sYnlVTk1Gdz09
Meeting ID: 977 7454 5711
Passcode: 359973
---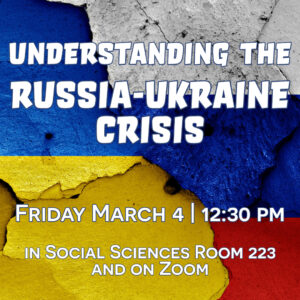 TCNJ Politics Forum and the International Studies Forum present Understanding the Russia-Ukraine Crisis on March 4, 2022 at 12:30 pm in Social Sciences Room 223 and on Zoom. TCNJ Political Science and International Studies faculty Dr. Nicholas Toloudis, Dr. Brian Potter, and Dr. Hyun-Binn Cho discuss the Russian invasion of Ukraine and the political and international ramifications.
Join Zoom Meeting
https://tcnj.zoom.us/j/94642162625?pwd=RTdwaE0vVmh4SXgzeXJXUWZCMU1hQT09
Meeting ID: 946 4216 2625
Passcode: 499939
---
On March 8, 2022 at 12:30 pm via Zoom, Politics Forum hosts LaFleur Stephens-Dougan, Ph.D. as she presents "White Americans' Reactions to Racial Disparities in COVID-19."
Join Zoom Meeting
https://tcnj.zoom.us/j/98861131806?pwd=Lys5dUp5cERNMlNlcEh1aGU3dEZDZz09
Meeting ID: 988 6113 1806
Passcode: 067953
There is a documented partisan divide in the response to the COVID-19 pandemic in the United States with Republicans reporting lower rates of social distancing behavior relative to Democrats. Dr. Stephens-Dougan hypothesizes, however, that the partisan response to COVID-19 is driven in part by information about racial disparities in mortality rates from the disease. Previous research indicates that White Republicans are more likely to express negative attitudes about African Americans, whereas White Democrats are more likely to express positive attitudes about African Americans.  Dr. Stephens-Dougan argues that this difference in racial attitudes between the two parties might affect the partisan response to a disease that disproportionately affects Black people. The results of two survey experiments, including a survey experiment on a nationally representative sample of approximately 600 White Americans, indicate that strong and moderate White Republicans were less supportive of efforts to slow the spread of the pandemic when exposed to information about the disproportionate impact of COVID-19 on African Americans. Conversely, White Americans who did not identify as strong and moderate Republicans in some instances became more supportive of efforts to slow the spread of the pandemic.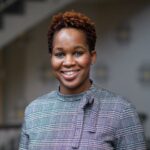 LaFleur Stephens-Dougan, Assistant Professor of Politics at Princeton University, earned her Ph.D. in Public Policy and Political Science from the University of Michigan. Her research interests include racial attitudes, black politics and public opinion. Her book Race to the Bottom: How Racial Appeals Work in American Politics is forthcoming with the University of Chicago Press.  She is a recipient of the National Science Foundation's Time-Sharing in Experimental Social Sciences Research Grant, as well as grants from the Social Science Research Council and the  Center for the Study of Public Policy in Diverse Societies.
---
Fall 2021 Presentations
On October 22, 2021 at 12:30 pm on Zoom, Dr. Yamil Velez, Assistant Professor of Political Science at Columbia University, presents "The Political Consequences of Ethnically Targeted Incarceration: Evidence from Japanese-American Internment During WWII" (with Maya Sen and Mayya Komisarchik).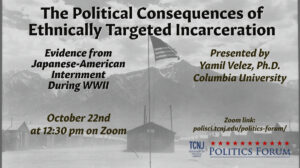 What are the downstream political consequences of state activity explicitly targeting an ethnic minority group? This question is well studied in the comparative context, but less is known about the effects of explicitly racist state activity in liberal democracies such as the United States. The authors investigate this question by looking at an important event in American history—the internment of people of Japanese ancestry during World War II. They find that Japanese Americans who were interned or had family who were interned are significantly less politically engaged and that these patterns of disengagement increase with internment length. Their findings contribute to a growing literature documenting the demobilizing effects of ethnically targeted detention and expand our understanding of these forces within the U.S.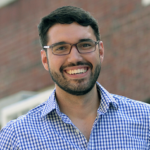 Dr. Velez completed his Ph.D. in Political Science at Stony Brook University and holds B.A.s in Political Science and Psychology from Florida State University. His research and teaching interests lie at the intersection between racial and ethnic politics, political psychology, and political geography, with a focus on immigration. Prior to coming to Columbia, he was an Assistant Professor at George Washington University and Wesleyan University.
Zoom link: https://tcnj.zoom.us/j/93338811244?pwd=ZTF5alR6eTBoSVFYOFgxcFUwTXRWUT09
---
On October 15, 2021 at 12:30 pm, Politics Forum hosts Tanu Kumar, Ph.D., postdoctoral fellow at William and Mary College, as she presents "Housing as welfare: how subsidized homes redistribute wealth and create local-level interest groups in urban India" on Zoom.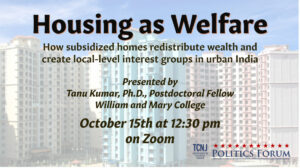 Urbanization is accompanied by the challenge of providing residents of growing cities, particularly the poor, with housing. How do large and widespread policy initiatives to do so affect citizens? Dr. Kumar studies a policy implemented in Mumbai, India, and finds that it makes beneficiaries substantially wealthier and better educated. At the same time, she finds that beneficiaries are more active than non-beneficiaries in local politics and have a vested interest in protecting the value of their housing. Dr. Kumar argues that housing, like many other better studied welfare programs, is a powerful redistributive tool that can also create active interest groups at the local level.
Zoom link: https://tcnj.zoom.us/j/91813567147?pwd=aHZWUHFUS3FOcmJ5YUhGeGFVQnJsQT09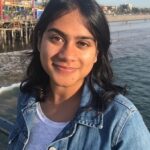 Tanu Kumar earned her PhD in political science at the University of California at Berkeley in 2020. Her scholarship focuses on urban politics and political behavior, mainly in India. She seeks to understand the effects of policies aimed at managing rapid urban growth with a particular concern with how policy shapes, and is shaped by, the behavior of citizens and local-level officials.. She is currently a postdoctoral fellow at William and Mary College. She will begin a tenure track appointment in the Division of Politics and Economics at Claremont Graduate University in fall 2022.
---
Celebrate Constitution Day with Politics Forum!
On Constitution Day, on September 17, 2021 at 12:30 pm, Andrew J. B. Fagal, Ph.D., Associate Editor of The Papers of Thomas Jefferson and Craig Hollander, Ph.D., Associate Professor in the TCNJ History Department will present "'A Terror to Others': Thomas Jefferson, the Constitution, and the Suppression of the Slave Trade Before 1808" on Zoom.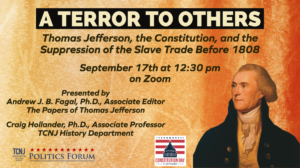 In 1787, the framers of the Constitution struck a bargain to prevent the new federal government from abolishing the transatlantic slave trade until 1808. However, in the two decades following the adoption of the Constitution, there were a number of attempts to limit American participation in the traffic. The Jefferson administration seemed especially willing to push the limits of the Constitutional ban in order to suppress the slave trade. But the administration's legal and political actions backfired, triggering a massive resurgence of the slave trade to the United States.
Zoom link: https://tcnj.zoom.us/j/91610058230?pwd=YXZqcmplZDNndTBkT2F1RW5BK1pzZz09
Andrew J. B. Fagal is an associate editor with The Papers of Thomas Jefferson at Princeton University. He has served as an editor since 2014 and has participated in compiling volumes No. 42, onward. A political historian, he completed his Ph.D. in 2013 at Binghamton University, State University of New York. 
Craig Hollander graduated from Columbia University in 2004. He then received his Ph.D. in 19th-century U.S. history from The Johns Hopkins University in 2013. University of Pennsylvania. Before joining the TCNJ faculty, Professor Hollander was the Behrman Postdoctoral Fellow in the Department of History at Princeton University. His dissertation, titled "Against a Sea of Troubles: Slave Trade Suppressionism During the Early Republic", won both the 2014 C. Vann Woodward Prize from the Southern Historical Association and the 2014 SHEAR Dissertation Prize from the Society for Historians of the Early American Republic. 
---
Politics Forums presents Danielle A. Harms, Diplomat in Residence for NY Metro (NY, NJ & PA), U.S. Department of State, Bureau of Global Talent Management, as she discusses Careers, Internships, and Fellowships with the U.S. Department of State on Tuesday September 14, 2021 from 12:30 pm to 1:50 pm on Zoom. Click here for the Zoom link.
The State Department seeks to recruit a highly-qualified and diverse workforce for a variety of positions within the United States and abroad.   Students from a wide variety of majors can find an exciting fellowship or career helping people from the all over the world.  Whatever your major, you may have an important role to fulfill with the U.S. State Department. Join us to learn more about opportunities with the U.S. Department of State.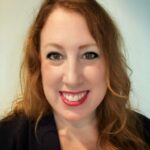 Danielle Harms is the current Diplomat-in-Residence for the NY Metro (NJ. NY, PA) area. She joined the Foreign Service in March 2003 and is a public Diplomacy Foreign Service Generalist. Her domestic assignments include service as the Senior Advisor to the Office of Eastern European Affairs covering Ukraine, Belarus, and Moldova, the Senior Israel Desk Officer in the Office of Israeli and Palestinian Affairs, and the Public Diplomacy Desk Officer for 10 countries in central Europe. Ms. Harms is an honors graduate of both American University's School of International Service and the Washington College of Law. Her language experience includes Swedish, Dari, Bosnian/Croatian/Serbian, French, and Finnish.
Opportunities include:
Positions
(see https://careers.state.gov/learn/what-we-do/opportunities-overview/)
Foreign Service Officer
Foreign Service Specialists (Administration, IT, Engineering, English language instruction, others)
Consular Fellows
Domestic Civil Service (HR, Legal, Administration, Management, Legal, others)
Fellowships
Charles B. Rangel International Affairs Program
Foreign Affairs Information Technology Fellowship (FAIT)
Thomas R. Pickering Foreign Affairs Graduate Fellowship Program
Pamela Harriman Foreign Service Fellowship
The Council of American Ambassadors Fellowship
Internships
Pathways Internship Programs
U.S. Department of State Student Internship Program
U.S. Foreign Service Internship Program