The TCNJ Department of Political Science's Politics Forum presents analytical and/or empirical research concerning political power, institutions and choices.  Students and faculty from diverse departments join to learn and comment on the presenter's current research projects, which may be in completed or just in beginning phases.  Projects that cross disciplinary boundaries are particularly welcome.  Contact Dr. Nicholas Toloudis (toloudin@tcnj.edu) with questions or if you are interested in presenting your work.
Click here to see past presentations.
Fall 2022 Presentations
---
The Midterm Roundup with Professor Dan Bowen (TCNJ Political Science and Public Policy Program)
November 15, 12:30 pm to 1:50 pm in ED 115 and on Zoom
Do you have questions about the 2022 election results?  How will they impact important policy choices concerning abortion, voting rights, and the economy?  What do they suggest for the 2024 elections? Dr. Bowen will offer an early assessment of election results. Take a break from cable news and bring your questions!
---
Is Justice Possible for the Atrocities in Ukraine? with Stephen J. Rapp, former U.S. Ambassador-At-Large for War Crimes (2009-2015)
October 26, 2022, 10:30 am to noon in ED 115 and on Zoom
Former member of Congress and U.S. Ambassador-At-Large for War Crimes Stephen J. Rapp has led teams prosecuting war crimes committed in Rwanda, Sierra Leone, the countries of former Yugoslavia, and other countries violating human rights during war.  Ambassador Rapp will discuss the potential of holding accountable those responsible for the barbarism in the Ukraine war.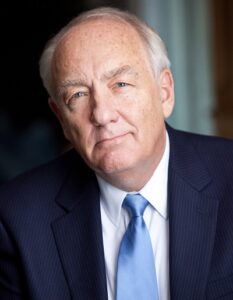 From 2009 to 2015, Rapp was Ambassador-at-Large heading the Office of Global Criminal Justice in the US State Department. He was the Chief Prosecutor of the Special Court for Sierra Leone from 2007 to 2009, where he led the prosecution of former Liberian President Charles Taylor. From 2001 to 2007, he served as Senior Trial Attorney and Chief of Prosecutions at the United Nations International Criminal Tribunal for Rwanda, where he headed the trial team that achieved the first convictions in history of leaders of the mass media for the crime of direct and public incitement to commit genocide.  
Before becoming an international prosecutor, he was the United States Attorney for the Northern District of Iowa from 1993 to 2001. He received a BA from Harvard College and a JD from Drake University Law School.
Co-sponsored by TCNJ Department of Political Science Politics Forum, TCNJ International Studies Program, TCNJ Prelaw Program, and the Princeton-Trenton and Northern NJ chapters of the United Nations Association.
---
Celebrate Constitution Day with Politics Forum!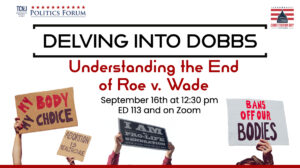 On Friday, September 16, at 12:30 pm, the Political Science Department's Politics Forum is hosting this year's Constitution Day Event entitled "Delving Into Dobbs: Understanding the End of Roe v. Wade"
Professors Tao Dumas (Political Science), Leigh-Anne Francis (AAS / WGSS), Jackie Cornell (WGSS), and Erin Ackerman (Library / Political Science) will analyze the 2022 Supreme Court decision Dobbs vs. Jackson Women's Health Organization from their scholarly perspectives.
Location: Education Building, Room 113 and Zoom:
When: Sep 16, 2022 12:30 PM Eastern Time (US and Canada)
Topic: Politics Forum Constitution Day