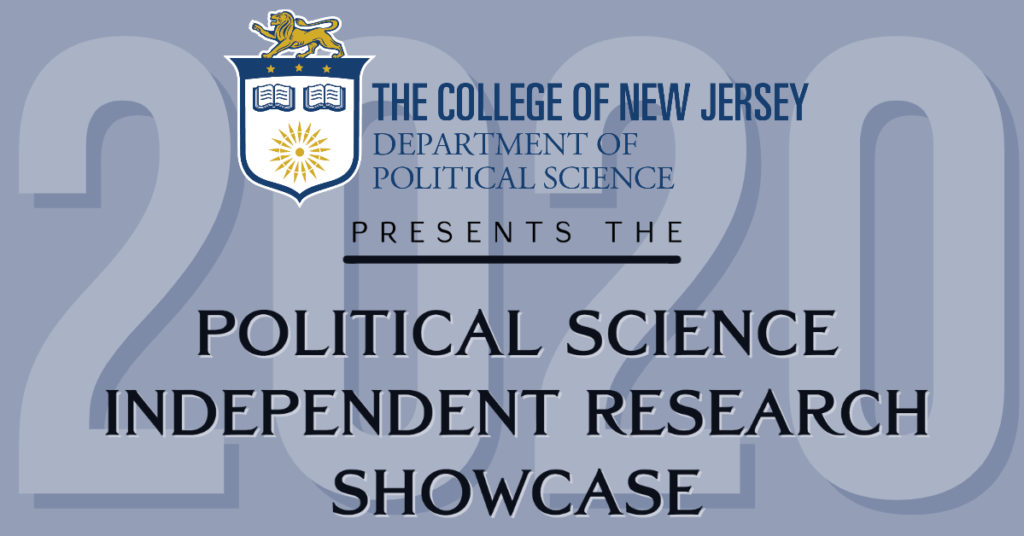 The Political Science Independent Research Showcase (PIRS) features an online gallery of the research, scholarship and creative activity of TCNJ Political Science students. The Showcase highlights significant work that results from deep engagement in the scholarly or creative process. Students present work that they have already prepared or presented for another purpose such as Independent Research, a Capstone course, a conference presentation, or some other outstanding scholarly/creative experience. In many cases, this will be work done in collaboration with a faculty mentor, but the student is the primary author and presenter of the work at the Showcase.
Click here to see the Political Science Independent Research Showcase Archive of past presentations.
December 2020 Showcase
POL 498: Senior Seminar in Political Communication with Prof. Garlick
---
Watch the PIRS Showcase Panel, presented on December 2, 2020, as well as additional student presentations, below.
Professor Alex Garlick
Introduction and Overview: Professor Alex Garlick discusses the capstone projects from POL 498: Senior Seminar in Political Communication to be presented at PIRS and that are still in progress. This course was remote-only, but the students still pursued interesting research questions on contemporary issues including the COVID-19 pandemic, the 2020 presidential election, climate change, mass shootings, Russian disinformation campaigns and more. We hope you enjoy this innovative and rigorous work.
PIRS Showcase Panel
featuring:
Madeline Davies: "The Widening of Partisan Polarization: A Catalyzer of Diverging Climate Change Media"
Alanna Namit:  "Athletes and Politics: A Study of Black Lives Matter and Athletic Activism"
Dylan Teixiera: "The Effectiveness of Social Media in Social Distance Messaging"
Kelsey Ballard
Gender, Ideology and Electability: Newspaper Coverage of the 2020 Democratic Primary
Jayson Morelli
News Consumption Trends in Response to the COVID-19 Outbreak
Joshua Oh
Social Media's Impact on Political Opinion of Presidential Policy
Vincenzo Spanola
Young Americans Political Involvement: Evidence from Mass Shootings
Deisha Inniss
Mobilization of Black Movements through Interest Groups and the Media
Emily Evers
The 2016 Russian Internet Research Agency Twitter Disinformation Campaign and its Impact on American Newspapers