Campus to Capitol Political Science Alumni Mentorship Program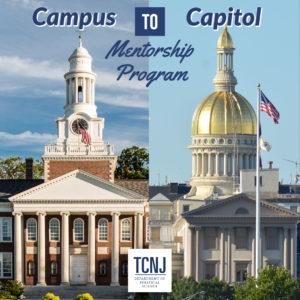 The TCNJ Campus to Capitol Mentorship Program (C2C), offered through the TCNJ Political Science Department, is accepting applications for its fourth year. Leveraging our campus's close proximity to Trenton and the wealth of resources, talent, and career options that exist within state government, the C2C program is designed for sophomore, junior, and senior year political science majors who aspire to pursue careers in government, non-governmental and non-profit organizations, policy, and other aspects of public service.
The program matches selected students with recent TCNJ alumni working in New Jersey state and local governments and the NJ policy community who want to share their experience with the next generation of students.  The selection, as much as possible, will be based on areas of career interest, and mentors will help students navigate applying for internships and early career jobs and grow as public affairs professionals.
The program is a fantastic way to develop connections to the NJ government and policy world and to learn from experienced public servants and public affairs professionals in NJ.
Commitment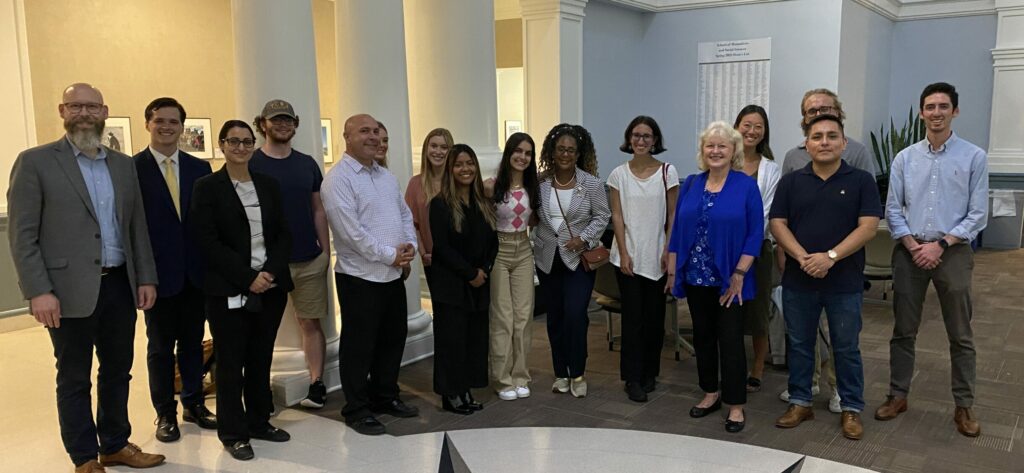 The mentorship program runs from the end of August through December. The main expectation is that mentors and mentees have a minimum of two hours of contact per month. The initial e-mail introduction is in early September, and the mentoring officially concludes in December. The two contact hours per month can be broken up however you wish: weekly 30-minute check-ins, one two-hour meeting, etc. The meetings can be in-person, on the phone, or online through Zoom, Skype or Google Hangouts.
Typical areas of discussion include but are not limited to: resume and cover letter critiques; industry trends; taking advantage of time at TCNJ and what the campus has to offer; internship or job search strategies; and interview preparation. Though not required, mentors may arrange for their mentees to shadow them or a colleague at the workplace.
Students and mentors also attend a series of events focused on careers and training in public policy, public service, and public affairs, some of which are open to the wider public and some are exclusive to students in the mentorship program.
About Our Mentees
In 2019, the C2C program paired 11 students with 13 mentors for the inaugural year and in 2020, 10 students were paired with 10 mentors. The students were interested in a wide range of experiences: some had a firm idea about the area of state or local government or policy in which they are interested while others did not. The students explored various fields, including lobbying, campaigning/communications, transportation policy, legislative affairs, public affairs, and civil rights, among other areas.
How to Apply
Students who are sophomores, juniors, and seniors for the upcoming academic year are encouraged to apply. Applications are now closed for 2022.
Fall 2022 program dates:
September 12 at 6:30 PM — Meet and greet with opening remarks from Assemblywoman Reynolds Jackson (Trenton State alumni) and Senator Jean Stanfield (TCNJ alumni). This will be the first kick-off event for you to meet your mentor in person and network with other mentor/mentee pairs! This will be located in the TCNJ Social Sciences Building Atrium from 6:30 PM to 8:00 PM.
September 28 at 11:30 AM— Statehouse tour with mentors & mentees! Meet at 145 West State Street in Trenton for a private tour. Tour will run about 60 minutes.
October 19 at 6:30 PM— Grad panel with recent alums to discuss why they chose various post-grad degrees (MBA, JD, MPP, and MPA). This will be a hybrid style and be open to students outside of the program. For those attending in-person, the event will take place in Forcina 226 from 6:30 PM to 8 PM. If you cannot make it, feel free to join on Zoom: https://tcnj.zoom.us/j/94299117996?pwd=dHNrVEVOZzhuM3FhbzJYZ3FoL09QZz09 Meeting ID: 942 9911 7996
Passcode: 044343
November 28 at 6:30 PM— Professionalism panel! This will be a casual conversation between program participants, mentors, and other alum on general etiquette plus what they wish they knew before graduation. This will be fully remote on Zoom: https://tcnj.zoom.us/j/93388020082?pwd=NVBBMXFjTzNVS3pBK2NoR2RyYnBMdz09 Meeting ID: 933 8802 0082 Passcode: 346872
Program Contacts:
Catherine Tung, TCNJ Class of 2015, Policy Analyst at New Jersey Assembly Majority Office
Dr. Dan Bowen, TCNJ Political Science faculty