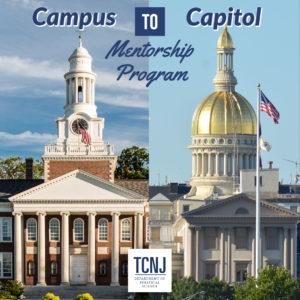 The TCNJ Campus to Capitol Mentorship Program (C2C), offered through the TCNJ Political Science Department, is accepting applications for its 5th year. Leveraging our campus's close proximity to Trenton and the wealth of resources, talent, and career options that exist within state government, the C2C program is designed for sophomore, junior, and senior year political science majors who aspire to pursue careers in government, non-governmental and non-profit organizations, policy, and other aspects of public service.
The program matches selected students with recent TCNJ alumni working in New Jersey state and local governments and the NJ policy community who want to share their experience with the next generation of students.  The selection, as much as possible, will be based on areas of career interest, and mentors will help students navigate applying for internships and early career jobs and grow as public affairs professionals.
The program is a fantastic way to develop connections to the NJ government and policy world and to learn from experienced public servants and public affairs professionals in NJ.
Commitment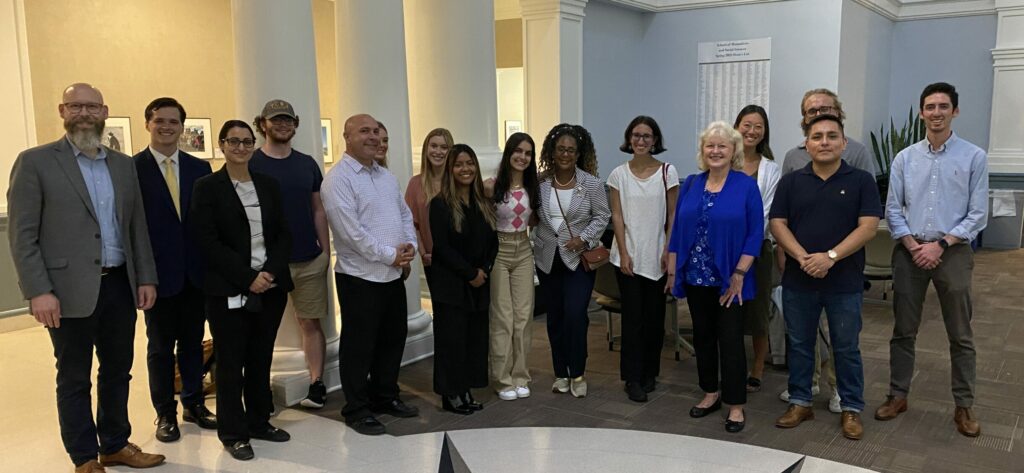 The mentorship program runs from the end of August through December. The main expectation is that mentors and mentees have a minimum of two hours of contact per month. The initial email introduction is in late August, and the mentoring officially concludes in December. The two contact hours per month can be broken up however you wish: weekly 30-minute check-ins, one two-hour meeting, etc. The meetings can be in-person, on the phone, or online through Zoom, Skype or Google Hangouts.
Typical areas of discussion include but are not limited to: resume and cover letter critiques; industry trends; taking advantage of time at TCNJ and what the campus has to offer; internship or job search strategies; and interview preparation. Though not required, mentors may arrange for their mentees to shadow them or a colleague at the workplace.
Students and mentors also attend a series of events focused on careers and training in public policy, public service, and public affairs, some of which are open to the wider public and some are exclusive to students in the mentorship program.
About Our Mentees
In 2019, the C2C program paired 11 students with 13 mentors for the inaugural year and in 2020, 10 students were paired with 10 mentors. The students were interested in a wide range of experiences: some had a firm idea about the area of state or local government or policy in which they are interested while others did not. The students explored various fields, including lobbying, campaigning/communications, transportation policy, legislative affairs, public affairs, and civil rights, among other areas.
How to Apply
Students who are sophomores, juniors, and seniors for the upcoming academic year are encouraged to apply. Click here to apply for the Fall 2023 Campus to Capitol Mentorship Program. Applications are due by Friday, August 11, 2023.
Fall 2023 program dates:
September 6 at 6:00 pm in-person, Trenton Hall Room 123 — Meet and greet with opening remarks from legislator alums! This will be the first kick-off event for you to meet your mentor in person and network with other mentor/mentee pairs.
September 20 at 10:00 am in-person – noon in Trenton — Statehouse tour followed by a public sector panel featuring state government workers from the Legislature and Executive Branch! Meet us at 145 West State Street for a private 60-minute tour followed by a panel in the committee rooms.
October 17 at 6:00 pm in-person, Science Complex Physics 101  — Private sector panel featuring individuals working on the "other side" of the government affairs world. We will have policy experts from trade associations, nonprofits, lobbying shops, and various organizations to discuss how they influence decisions made for the State.
October 24 at 6:00 pm in-person, STEM Room 102 — Grad panel with alumni to discuss why they chose various post-grad degrees (MBA, JD, MPP, MPA, and others). This will be open to students outside of the program.
November 8 at 6:00 pm on Zoom — Program wrap-up. Mentors and mentees will have a final opportunity to debrief, exchange contact information, and reflect on the last few months before the official conclusion of the program.
Program Contacts
Catherine Tung, TCNJ Class of 2015, Government Affairs Advisor for McCarter & English
Will Roddy, TCNJ Class of 2020, Director of Communications and Government Affairs, New Jersey Public Charter Schools Association
Dr. Dan Bowen, TCNJ Political Science faculty