Political science students at The College of New Jersey develop a deep knowledge of political theories and institutions, in the US and around the world, while mastering the work of the political scientist. Our curriculum places a strong emphasis on research, data analysis, and the formulation of clear and convincing evidence-based argument. Our programs intermingle applied and theoretical knowledge as a way to develop student skills in interpreting, evaluating, and measuring critical information in the political realm.
Political science studies patterns of power and influence through an examination of governments, political behavior, and public policies, both in the United States and around the world.  More specific topics analyzed include elections, globalization, political development, law, civil rights and liberties, the environment, public opinion, political institutions, and foreign policy. The discipline examines political theories, both past and present, that inform political discussion and decision-making.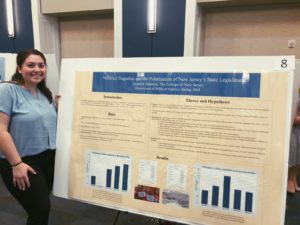 Political science majors interpret political events, evaluate theories of politics, and analyze public policies by gathering and weighing evidence. They do so through the mastery of appropriate empirical research tools and the development of advanced skills in critical thinking, including the ability to dissect scholarly texts. By engaging in these activities, students learn the fundamentals of scholarship, develop a concept of what it means to be a citizen of a representative democracy, and hone the communications and analytical skills at the heart of a liberal education.
Political science prepares students for a broad range of careers in the public, non-profit, and private sectors directly upon graduation or after further study in graduate or law school. The political science major at The College of New Jersey prepares students for careers in law, electoral politics, community or non-governmental organizations, governmental or international agencies, advocacy or lobbying, and public affairs.
Capitol Connections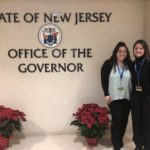 With the state government minutes away in Trenton, our students intern throughout the capital city, in the NJ Governor's office, the New Jersey legislature, numerous state agencies, and throughout the broader policy community. There are both paid and volunteer internships available, giving students unmatched experience.
Our Community
We have about 190 Political Science majors and minors as well as an interdisciplinary prelaw network. We offer minors in:
Political Science Major Requirements
Political Science Undergraduate Bulletin
Political Science Departmental Honors
Post Graduation
Our graduates are prepared to think critically, write clearly, and analyze politics intelligently. Many have pursued careers in government, nonprofit organizations, or the private sector.
Others seek to continue their education in graduate and professional schools, especially law school or graduate programs in political science and public administration.
Many of our students have continued their education at other fine institutions, such as the University of Pennsylvania School of Law, Georgetown University, American University, Boston University, The Eagleton Institute, Rutgers University, Syracuse University, University of Michigan's School for Environment and Sustainability, and Seton Hall University, among others.
ENGAGED LEARNING
The Washington Center