Office of the Mayor, City of Trenton Internship Opportunities
Mayor Reed Gusciora Office in the City of Trenton (319 E. State St., Trenton, NJ 08608) provides two types of internships:
• COMMUNICATIONS INTERN: Tasks might include drafting pre-media advisories, pre-media invitations, talking points, op-eds, social media posts, and press releases. Interns will have the opportunity to work directly with the City of Trenton's Public Information Officer and the Mayor on a day-to-day basis.
• POLICY INTERN: Tasks might include completing research, drafting, and working with city council members on resolutions and ordinances; similarly, it may include completing research or supporting ongoing city initiatives, policies, and programs.
The internships are paid and/or for class credit.  The internships are in-person with the expectation that interns will be available for at least two days during the work week. Internship opportunities are limited and decisions will be made on a rolling basis. Students should apply for for spring internships during December, January, and February. The summer internship application deadline is May 22, 2023 and the fall deadline is August 1, 2023.
Click here to apply to the internship. Candidates must submit a resume and unofficial transcripts.
If you have any questions about the internship program, please contact David McMillan, Aide to the Mayor, at dmcmillan@trentonnj.org.
Additional Information
If you don't know exactly which role you'd like to apply for or if both opportunities interest you, apply for both! We'll provide you with an opportunity to split your time between both roles. Many other internships in politics result in interns running errands or answering phone calls for the office. On our view, this is a waste of an incredible opportunity for our office to benefit from student contributions and for students to grow professionally. In our office, we pride ourselves on offering interns substantive opportunities to craft language that appears in newspapers/television or to draft legislation that can improve entire communities. You may have heard that all politics is local: It is. Constituents are primarily concerned about issues that affect their lives: Are the roads being paved? Are the vacant properties being turned into tax-paying properties? Do city youth have recreational outlets? Mayor Reed will serve a four-year term from January 2023 to January 2027; he's looking for the best and the brightest interns. We're bringing self-driving vehicles to the Capital City through Trenton MOVES, correcting health inequalities through the city's first neighborhood health clinic, and we're making the city safer through our Real Time Crime Center.
Who is Mayor Reed?
Mayor Reed Gusciora serves as the 49th Mayor of the City of Trenton. Previously, he served in the New Jersey General Assembly for 22 years, representing the 15th Legislative District, which includes portions of Mercer and Hunterdon Counties; concurrently, he served as a municipal prosecutor for Lawrence Township, Hopewell Borough, and Princeton as well as an adjunct faculty member in the Department of Political Science at The College of New Jersey.
Mayor Reed is a civil rights leader whose landmark achievements related to environmental policy, criminal justice reform, and health policy have changed the political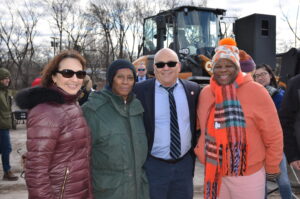 landscape in New Jersey; he led the fight for marriage equality, legalizing medical marijuana, recycling electronics, and banning smoking indoors in New Jersey. Dozens of TCNJ students and alumni have interned and worked as full-time staff members in Mayor Reed's office (including several Chiefs of Staff). Now, he's moving Trenton forward.