Careers, Internships, and Fellowships with the U.S. Department of State
Presented by  Danielle A. Harms, Diplomat in Residence for NY Metro (NY, NJ & PA), U.S. Department of State, Bureau of Global Talent Management
Tuesday September 14, 2021 from 12:30 pm to 1:50 pm on Zoom. Click here for the Zoom link.
The State Department seeks to recruit a highly-qualified and diverse workforce for a variety of positions within the United States and abroad.   Students from a wide variety of majors can find an exciting fellowship or career helping people from the all over the world.  Whatever your major, you may have an important role to fulfill with the U.S. State Department. Join us to learn more about opportunities with the U.S. Department of State.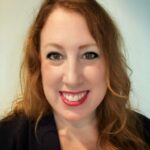 Danielle Harms is the current Diplomat-in-Residence for the NY Metro (NJ. NY, PA) area. She joined the Foreign Service in March 2003 and is a public Diplomacy Foreign Service Generalist. Her domestic assignments include service as the Senior Advisor to the Office of Eastern European Affairs covering Ukraine, Belarus, and Moldova, the Senior Israel Desk Officer in the Office of Israeli and Palestinian Affairs, and the Public Diplomacy Desk Officer for 10 countries in central Europe. Ms. Harms is an honors graduate of both American University's School of International Service and the Washington College of Law. Her language experience includes Swedish, Dari, Bosnian/Croatian/Serbian, French, and Finnish.
Opportunities include:
Positions
(see https://careers.state.gov/learn/what-we-do/opportunities-overview/)
Foreign Service Officer
Foreign Service Specialists (Administration, IT, Engineering, English language instruction, others)
Consular Fellows
Domestic Civil Service (HR, Legal, Administration, Management, Legal, others)
Fellowships
Charles B. Rangel International Affairs Program
Foreign Affairs Information Technology Fellowship (FAIT)
Thomas R. Pickering Foreign Affairs Graduate Fellowship Program
Pamela Harriman Foreign Service Fellowship
The Council of American Ambassadors Fellowship
Internships
Pathways Internship Programs
U.S. Department of State Student Internship Program
U.S. Foreign Service Internship Program (USFSIP)
Virtual Student Federal Service
2L Internships
Workforce Recruitment Program (WRP)
"We seek to recruit, retain, and empower a workforce that truly reflects America. Diversity and inclusion make us stronger, smarter, more creative, and more innovative."–Secretary of State Antony J. Blinken